How to charge your

electric

car

Even if an electric car with a charging cable attached looks just like a combustion engine car being filled up: charging electric cars is completely different. Among other things, you can do so in your garage. (Image: Getty Images)
Even if an electric car with a charging cable attached looks just like a combustion engine car being filled up: charging electric cars is completely different. Among other things, you can do so in your garage. (Image: Getty Images)
Find out more about charging

electric

 cars here:

Various apps – including from

Volkswagen

– display available charging stations and can sometimes also be used for digital payment.

Charging

costs at publicly accessible charging stations depend, among other things, on the operator and the charging capacity.

A wallbox lets you conveniently charge your

electric

car at home.
There are several ways to charge up your electric car. Firstly, of course, at public charging stations. The charging infrastructure for this is being continuously expanded, with new charging stations added every day. Volkswagen is also working tirelessly on this: together with its partners, the company plans to build around 18,000 new public DC fast-charging points in Europe by 2025.
There are various apps to help you find the nearest free charging station, but they can sometimes also be used to pay for the electricity. Volkswagen's We Charge1 and the appropriate smartphone app enable you to find and use around 270,000 public charging stations across Europe.
However, you can also set up a charging station in your home – simply and easily with a wallbox. This is a charging station specially developed for electric cars, which is usually screwed to the wall in your garage or carport. It has several advantages compared to charging from a normal power socket. Not just because it allows you to conveniently charge your electric car at home. Depending on the model, it can intelligently and individually regulate the charging power and thus ensure optimum charging of your electric car. The charging power is also higher than from a conventional European power socket, shortening the charging times .
And as electric cars are also counted as company cars and companies are increasingly switching their fleets to electric mobility, they are also starting to provide more and more charging stations for their employees – and also further alternative charging options.
Charging

an

electric

car – what it costs

There are now charging stations in front of many department stores, supermarkets, furniture stores, fast food restaurants, various retailers, DIY stores and hotels, as well as in front of museums and council buildings, where electric cars can sometimes be charged for free. However, providers can change these complimentary offers to pay-per-charge options at any time, and they are usually tied to opening hours.
You usually need to consult the operator to find out the charge at a particular charging point. The price also depends on the charging capacity – and therefore the charging time: at most charging points, DC fast-charging costs more than charging with 11 kW. Customers of the We Charge service can choose from three charging rates depending on their requirements. These range from the We Charge Free basic tariff, for which there is no basic fee, to We Charge Go for people who regularly use public charging points and We Charge Plus with favourable terms2 for the Europe-wide IONITY fast-charging network.
The cost of charging at home is easy to calculate: based on an electricity price of around 32 cents per kilowatt-hour, fully charging an ID.4 with 77 kWh (power consumption in kWh/100 km: combined 16.3; CO2 emissions in g/km: combined 0; efficiency class: A­+ ) costs around €25. This will enable the car to travel approximately 453 to 519 kilometres according to the WLTP3. If you do not have a contract with a Mobility Service Provider (MSP), such as We Charge), you can use the IONITY fast-charging network when you are out on the road.
How long does it take?

The charging time depends, among other things, on the capacity of the battery, the charge level, the maximum charging power and other factors – including the ambient or battery temperature. The charging curve also plays a role here: it describes how long the maximum charging power is maintained before it drops again. 'Battery capacity divided by charging capacity' provides a rough guide for this. For the above ID.4 with a 77 kWh battery, this means that it can be fully charged on a wallbox with a charging power of up to 11 kW in about seven to eight hours. This time is considerably shorter at a fast-charging station with up to 150 kW.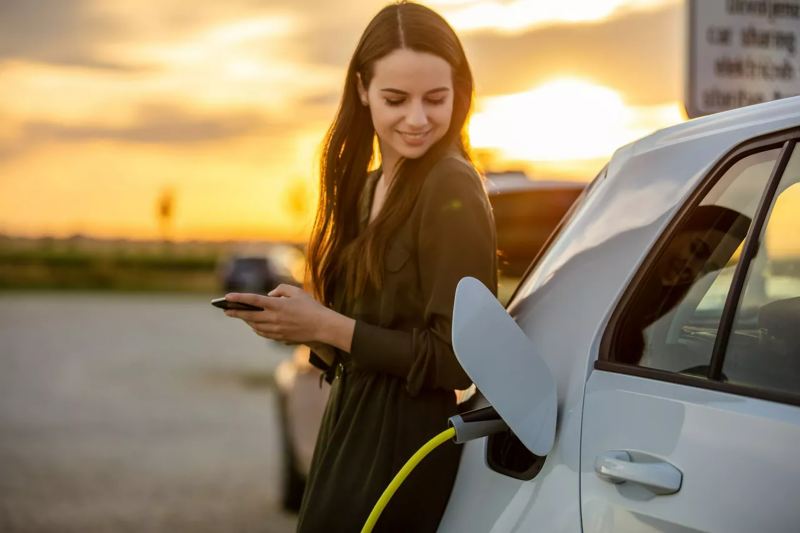 Looking ahead

Whether you opt for a household socket, wallbox or fast-charging station – your electric car also needs to be connected to the power by a charging cable.  But here too, development is in progress: contactless systems will permit inductive charging – when stopped at traffic lights, parked or even when driving. This dynamic charging of electric cars is already being tested in various projects.
Experience

electric

mobility

Would you like to test drive an electric car yourself? Simply arrange a test drive at a Volkswagen dealer near you. Of course, we also offer attractive leasing deals for electric cars.