New Volkswagen Cross Coupé concept even more efficient.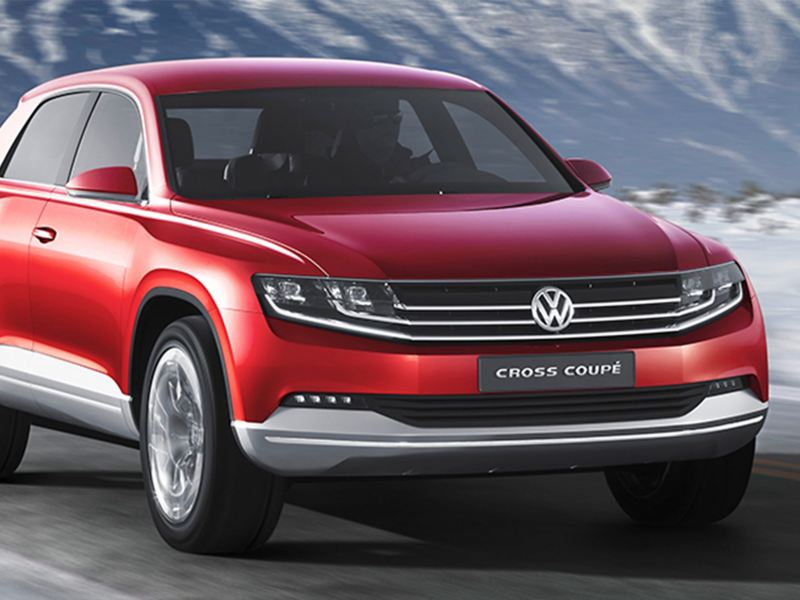 A new Cross Coupé made its debut at the Geneva Motor Show 2012, but with an even more frugal drivetrain that promises to return a combined cycle figure of 1.8 litres per 100 km (around 157 mpg) with emissions of just 46 g/km of CO2.
Making this possible is a drivetrain consisting of a turbodiesel direct injection engine and two electric motors, which together produce 306 PS (225 kW) of power. That's enough to propel the 1,858 kg Cross Coupé to a top speed of 220 kmh (137 mph).
The Cross Coupé is built on Volkswagen's new modular transverse matrix (MQB). This revolutionary new platform standardises certain parameters across models and brands (for example the distance between the accelerator pedal and the front axle), but makes many other parameters variable, creating maximum flexibility for more effectively developing a wide range of models. This not only means it is as easy to make a Cross Coupé that uses a petrol-electric hybrid system as a diesel-electric hybrid, but also to use combustion engines alone, or electric power alone for example.
The Cross Coupé uses many elements of the new MQB modular toolkit: MQB front and rear SUV suspension, plus the new 190 PS TDI EA 288 engine, in this case mated to a six-speed DSG transmission. Added to this is a lithium-ion battery in the centre console, plus a 40 kW electric motor at the front and an 85 kW motor at the rear. Together, these can propel the Cross Coupé from zero to 62 mph in 6.5 seconds.
In pure electric mode, the Cross Coupé can cover up to 45 km (28 miles) at speeds of up to 120 kmh (75 mph). This is sufficient for the majority of commuters to make the journey to work with zero emissions. Two pure electric modes are available: E-mode (CITY) and E-mode (SPORT). In the former, only the rear motor is used, while in the latter, both E-motors are used. In both pure electric modes, the turbo diesel engine is de-coupled from the drivetrain and shut off. If the TDI is needed (for example if the battery's charge is depleted), it seamlessly re-engages within fractions of a second.
The main battery for the E-motors is in the centre tunnel of the Cross Coupé, and consists of eight lithium-ion modules. The battery has a capacity of 9.8 kWh, and operates at approximately 370 Volts. The battery can either be charged while driving, or from an external 230 Volt power supply.
For off-road driving, there is an OFFROAD mode, which ensures all four wheels are driven. In this case, the TDI engine powers the front wheels, and also provides energy to the front electric motor. The front electric motor does not, however, power the front wheels. Instead, it becomes the sole source of electrical energy for the rear motor, operating as a kind of 'electric propshaft'. Because power for the electric motors is provided via the TDI engine, OFFROAD mode is possible even if the battery charge is depleted.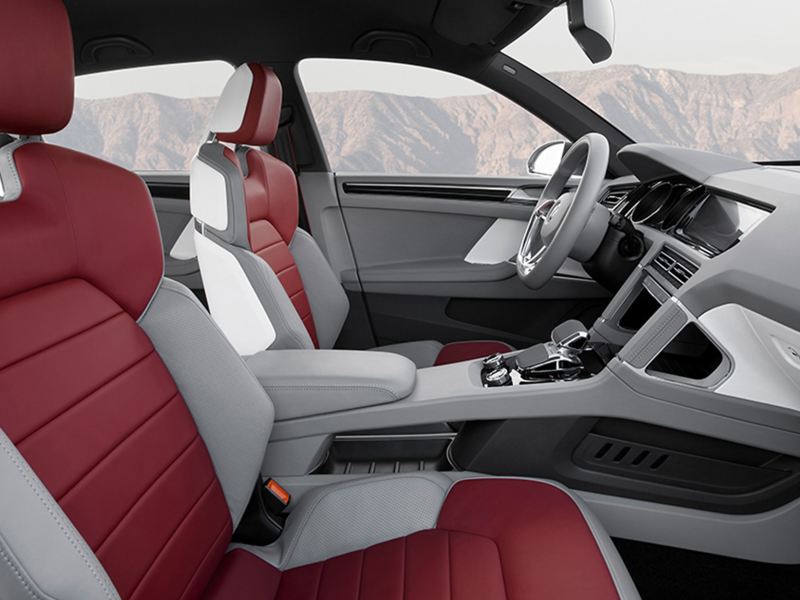 Inside, there are four individual seats with plastic shells. These not only help preserve each occupant's personal space, but also provide greater durability when folded to accommodate larger loads. With all the seats in position, the boot has a 380-litre capacity; with rear seats folded this rises to 1,230 litres.
As well as a long range, the Cross Coupé has an especially long wheelbase for its overall size, at 2,630 mm. Its 4,357 mm length means it is longer than a Golf, and shorter than a Tiguan, but short overhangs (855 mm front, 860 mm rear) create a more dynamic appearance. In width (1868 mm) and height (1,523 mm) the Cross Coupé sits between the Golf and Tiguan.
The Cross Coupé is a concept vehicle, and there are no current plans to put it into production.