1
Upgrades. 
Pre-programmed for your future.

Wishing

you all the best for the future.

VW Connect and We Connect2 are your introduction to the latest generation of mobile online services in many Volkswagen models. Your vehicle is ready to go online from the outset if you want it, and there are many VW Connect or We Connect services available. After one-time activation and logging in with your Volkswagen ID, VW Connect or We Connect makes your day-to-day more pleasant and convenient. You can now also activate selected new functions for your Volkswagen after it has been purchased. Customisable to suit your needs at a later date. Simply go to your In-Car Shop in the infotainment system or to the Volkswagen Connect shop. Upgrades1 available for your vehicle are available to view here as a VW Connect orWe Connect primary user and conveniently purchase them directly online.
Your

Volkswagen

never stops learning: Upgrades for VW Connect or We Connect-ready vehicles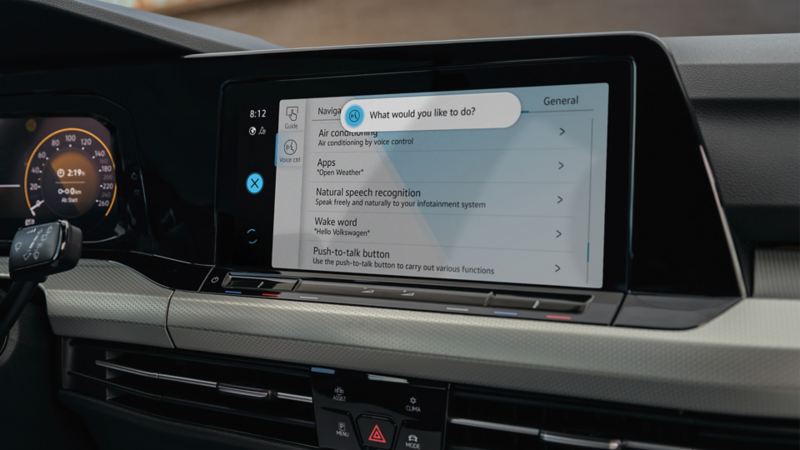 Online Voice Control3: "Hello
Volkswagen

"

Your Volkswagen understands you: By saying "Hello Volkswagen", you enter into a natural dialogue – for safe and convenient control of selected functions such as phone calls, media and navigation. Activate voice control for your infotainment system Ready 2 Discover 4 or Discover Media and, depending on the vehicle model and equipment, control numerous vehicle functions using your voice. This allows you to focus completely on the road and enjoy driving even more. 

App Connect5: Access your apps in your car
With App-Connect, selected apps and content are transmitted directly to the display of the infotainment system in your Volkswagen and can be comfortably and clearly controlled within your line of vision. That makes it incredibly easy to access music, news, maps or audiobooks, for example. Volkswagen offers two interfaces for connecting smartphones, with numerous options: Apple CarPlay andAndroid Auto by Google. Wireless use of Apple CarPlay and Android Auto by Google is also available as an upgrade for the "Discover Media" navigation system and "Ready 2 Discover". To avoid distraction, only certified apps can be started during the journey. 
More upgrades for your

Golf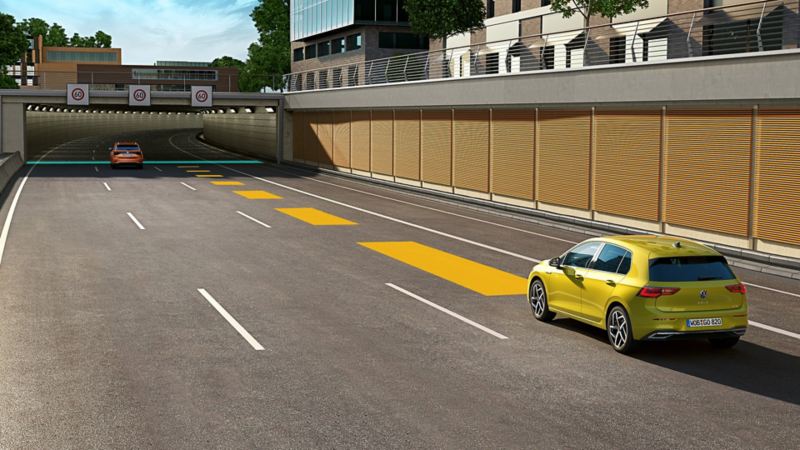 Adaptive

Cruise Control ACC6: Keeps a distance. And to speed limits.

Adaptive Cruise Control ACC keeps to a constant pre-set speed of your choice, up to 210 km/h. When your Golf approaches another vehicle in front, ACC adapts the speed automatically and is therefore able to keep your pre-set distance from the other vehicle (within the system's limits).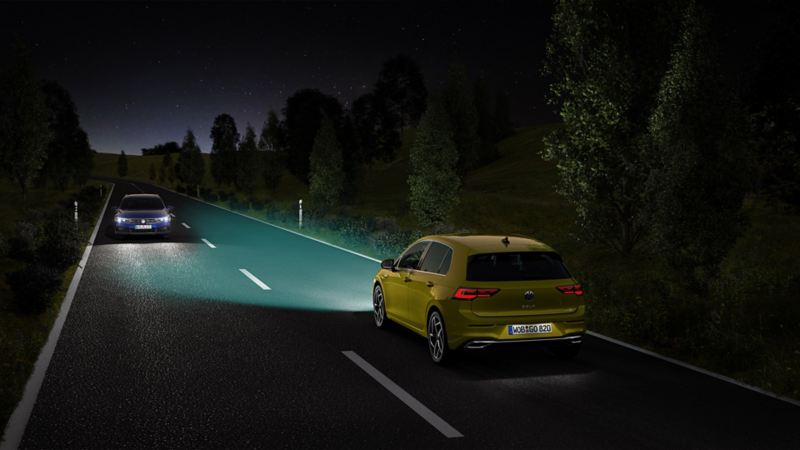 Light Assist: Dazzle-free. In virtually every situation.
With the Light Assist main beam control system, you'll see driving at night in your Golf in a whole new light. Light Assist uses a camera installed behind the windscreen to detect oncoming traffic or vehicles driving ahead and automatically switch between dipped and main beam (within the system's limits). The future's bright (but not too bright).
Dynamic Road Sign Display: shows you what's important
Dynamic Road Sign Display can detect speed limits, overtaking bans and hazard signs on camera (within system limitations) and show this on the multi-function display. So it's easier to keep track of what's going on in traffic.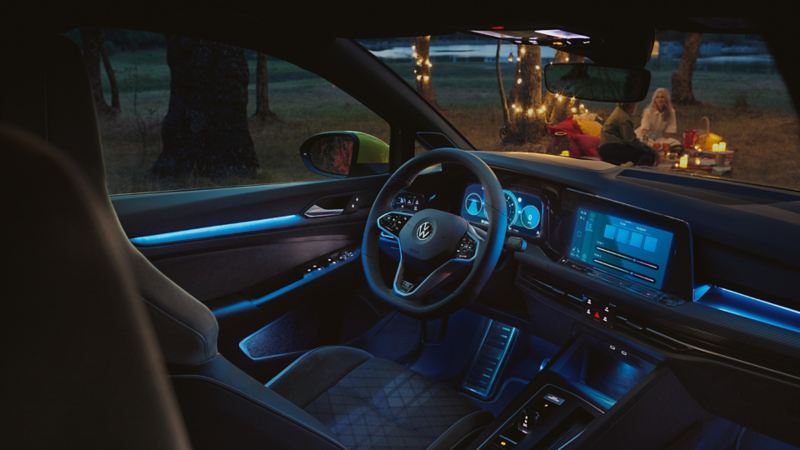 Mood Lighting: For inner peace.
Give your Golf a little more personality. The expansion of the basic ambient lighting enables the interior to be lit according to mood, thanks to the individual choice of colour. Mood Lighting offers an expanded range of colours and a wider selection for creating lighting accents as an upgrade. Whether you prefer cooler or warmer lighting, you're in the bright lights of the big city or on a dark country road: On every trip, you can create a different atmosphere to suit you and your passengers.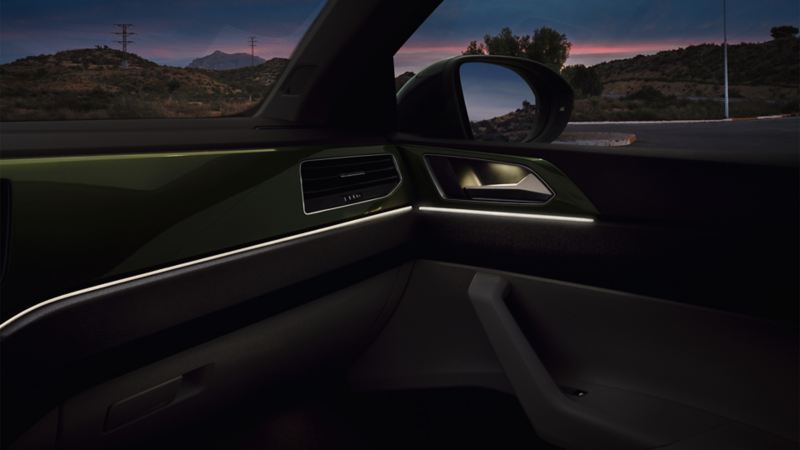 Dynamic Background Lighting: illuminating information.
Dynamic Background Lighting expands basic background lighting to include intuitive display of various functions. Depending on equipment, this includes warnings and information such as the acceleration indicator or door warning.
Upgrade7 functions at a glance for your

Volkswagen



Here is a first look at which selected upgrades1 can be added in principle to your vehicle. Your vehicle usually also needs to have the necessary technical functions and hardware equipment for the relevant upgrade. To find out which of these specific functions is actually available for your Volkswagen, please visit your In-Car Shop in the infotainment system or the Volkswagen Connect Shop. Here, the primary user can view and purchase the specific functions which are available for your vehicle.

<b>Prices</b>

 

Golf 8 and model versions

 

Passat Estate, Arteon, Arteon Shooting Brake, Tiguan, Tiguan Allspace, Touran, T‑Roc, T‑Roc Cabriolet, T‑Cross, Taigo, Polo

Adaptive cruise control ACC

Ambient light multicolour

Dynamic Road Sign Display
Golf 8 and model versions
Passat Estate, Arteon, Arteon Shooting Brake, Tiguan, Tiguan Allspace, Touran, T‑Roc, T‑Roc Cabriolet, T‑Cross, Taigo, Polo
8.

Price for the British market including VAT. The prices shown in the We Connect web or in-car shop at the time of purchase are legally binding. Prices may vary by vehicle and equipment.