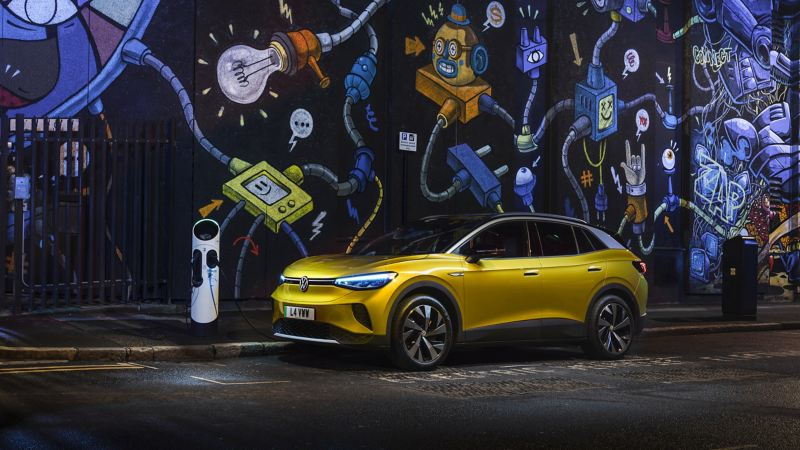 Pure

electric

. Pure

Volkswagen

.

Our future is electric. Discover our range of incredible all-electric cars that feature everything you love about Volkswagen alongside innovative technologies that massively reduce your carbon footprint as you drive. Whether it's the fun and dynamic performance of the e‑Golf or the class-leading technology found in the ID.3 and ID.4, our electric cars have something for every driver to fall in love with.
The ID.3 is the first of our next generation electric cars, setting new benchmarks for performance, comfort and design. Welcome to the future of driving.
Dynamic, powerful and intelligent. The ID.4 1ST Edition is here. Combining the flexibility of an SUV with the sustainability and driving experience you only get with electric.
The ID.5 is the first Volkswagen to combine sporty, elegant coupé design with the qualities of the ID. family: it offers a completely new sense of space, intuitive operation, is fully networked - and can be updated and upgraded "over-the-air". The high-quality coupé design clearly stands out from the appearance of conventional vehicles - and is unique in its segment. Discover all-electric driving in an inspiring shape.
Powerful, efficient, sustainable. With exceptional handling, acceleration and range, the e‑Golf is everything you'd expect from a Volkswagen and more. Why wouldn't you go electric?
The e‑up! is the ultimate city car. Zero tailpipe emissions, nimble and incredibly compact, with a fun personality and an impressive range. The e‑up! will take you further.
Our pure electric concept cars are created to help define the future of electric mobility, setting new standards and pushing the boundaries of what is possible.