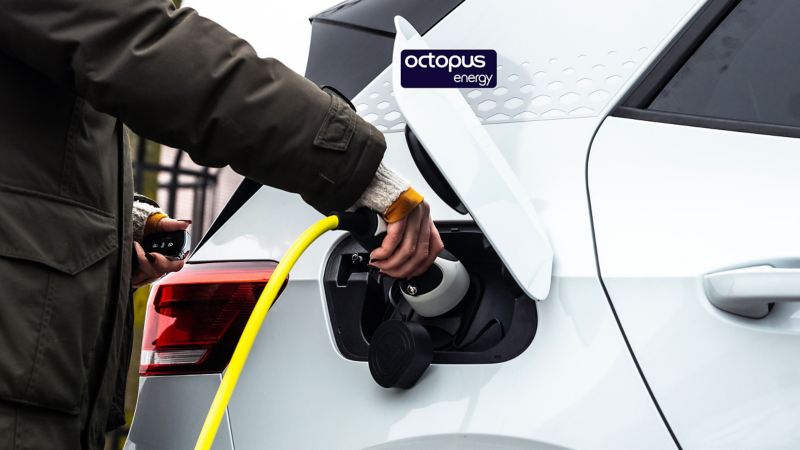 Up to 8000 free green miles

for
Volkswagen

Electric

Vehicle

customers switching to Octopus Energy.
for
Volkswagen

Electric

Vehicle

customers switching to Octopus Energy.
Volkswagen Electric Vehicle customers who switch a dual fuel home energy supply or have an existing dual fuel supply with Octopus Energy will be eligible for a £90 credit to their energy bill worth up to 8,000 miles of free driving1.
Octopus Energy was set up in 2016 with the aim of providing  energy that is good for the planet and good for your wallet. The company now supplies energy to 1.5 million UK homes and is rapidly growing. Partnering with Volkswagen, Octopus can now supply you with up to 8,000 free miles of driving  when you sign up to Octopus Go, a smart tariff using nothing but 100% renewable, carbon-free electricity. It's perfect for charging your new electric  Volkswagen at home.
Octopus Energy has an excellent customer service reputation and were rated as 5* Excellent on Trust Pilot and named as a Which? recommended  supplier for the last three years. Customers can also offset their gas if they want to minimise their environmental impact even further. Also, Octopus offers fair and transparent prices, won't lock customers into a contract and aims to make everything as easy possible.
Perfect tariffs for electric Volkswagen drivers 

Octopus Go is Octopus Energy's revolutionary 100% green electricity tariff for electric vehicle (EV) drivers. It offers cheap 5p/kWh electricity between 0.30am-4:30am every night, so customers can charge their EV while asleep, keeping fuel costs around 1p per mile2. Peak unit rate depends on where you are in UK but is around 14p/kWh and there is a standing charge of 25p3.
For further information and FAQs on Octopus Go, visit the Octopus website on the link below.