Raw material recovery through recycling: what happens to the ID. battery?

Electric mobility makes locally CO2-free driving possible. However, it only becomes more sustainable overall if it also relies on sustainable solutions in battery production. After all, the complex recovery of its raw materials makes the battery the most valuable component in an electric vehicle, but also represents a key factor in its carbon footprint. The opening of our recycling plant in Salzgitter is therefore an important step towards recovering these valuable raw materials for new batteries.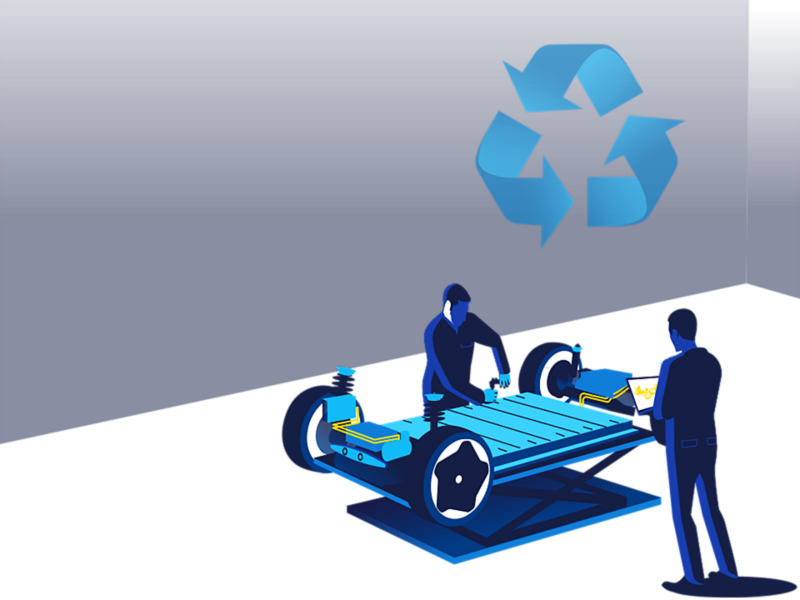 Battery life cycle: the value chain  
As the beating heart of electric mobility, the high-voltage-battery has the largest share of added value, but also presents us with the greatest challenges. Our aim is to recover valuable raw materials, such as lithium, nickel, manganese and cobalt on an industrial scale, and to recycle more than 90% of the aluminium, copper and plastic used. That is why we started developing a sustainable reusable material cycle for batteries more than 10 years ago. Whether it be through the continued use of older, but intact batteries in a so-called "second life" – for example, in flexible quick-charging stations – or through the direct recycling of the raw materials contained therein. Responsible handling of used batteries plays a decisive role for us.
Assembly belt recycling: the Salzgitter plant

At the beginning of 2021, the first plant for the further development of our innovative recycling process was opened at the Volkswagen site in Salzgitter, which can make it possible to recover and recycle over 90% of the valuable raw materials. A further unique feature of the plant is that it only recycles batteries that can no longer be used for other purposes. However, larger volumes of battery returns are expected at the earliest in about ten years, which is why the plant is initially designed to recycle up to 3,600 battery systems per year.
Turning old into new: the recycling process

The unique feature of our innovative process is that the CO2-saving recycling process does not require energy-intensive melting in a blast furnace. The used battery systems are first tested, totally discharged and dismantled. The individual parts are ground into granules in the shredder and then dried. In addition to aluminium, copper and plastics, the process also yields the valuable "black powder", which contains important battery raw materials, such as lithium, nickel, manganese, and cobalt, as well as graphite. The final step involves pure material sorting, which is undertaken by specialist partners. The powder is further treated with water and chemical agents to filter out and treat the individual raw materials. 
A look ahead: saving through re-use

The advantage: our plant in Salzgitter creates a more sustainable material cycle and covers the battery's entire value chain in battery cell production – from raw materials to production and recycling. This allows us to use key components of old battery cells in the production of new battery systems. We know from our research that recycled raw materials are as efficient as new ones. Over a tonne of CO2 can be saved for each 62 kWh battery that is manufactured from recycled material and with green electricity. The battery recycling plant thus represents a major step on the way to carbon‐neutral mobility.
Lithium-ion batteries, of the type used in most electric vehicles (including Volkswagen electric vehicles) have a restricted lifespan. Battery capacity will reduce over time, with use and charging. Reduction in battery capacity will affect the performance of the vehicle, including the range achievable, and may impact resale value. New car performance figures (including battery capacity and range) may be provided for the purposes of comparison between vehicles. You should not rely on new car performance figures (including battery capacity and range), in relation to used vehicles with older batteries, as they will not reflect used vehicle performance in the real world. For further information on battery degradation/preservation please visit: www.volkswagen.co.uk/en/electric-and-hybrid/should-you-go-electric/servicing/battery-maintenance-and-waranty.html