UK driver finds himself in the

history

books

When

Volkswagen

driver Trevor Godfrey purchased his brand-new

Tiguan

R, little did he know he was buying a little piece of

Volkswagen

history

.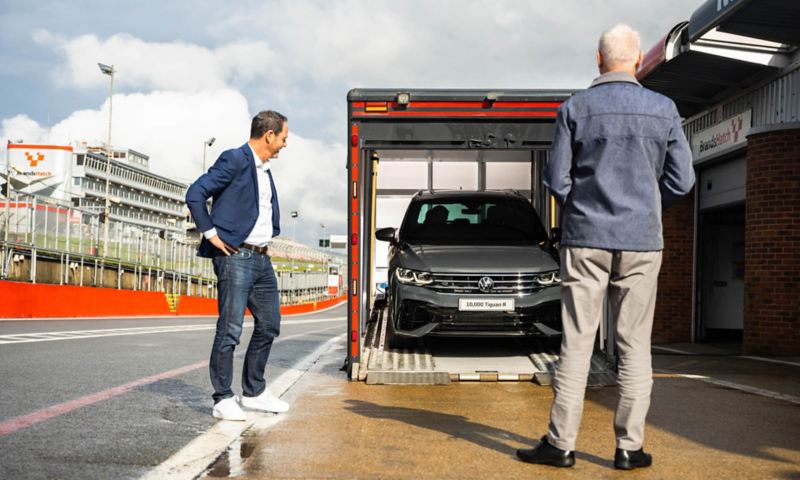 Shortly after placing his order, Trevor, a 65-year-old retired British Airways employee, received a phone call from his local retailer telling him he'd in fact bought the 10,000th Tiguan R.
 
His surprise soon gave way to delight. To mark the occasion, he collected his car from Brands Hatch – the legendary racetrack which hosted 14 Formula 1 Grand Prix between 1964 and 1986.
 
We couldn't have asked for a more worthy winner "I'm a big Formula 1 fan, so this is perfect for me." Trevor explained, "How many people can say that the first place they drove their new car was Brands Hatch?"
Before we let Trevor loose on the track, we held a special presentation in the circuit's pit lane. Handing over the keys, complete with a specially engraved silver keyring, was Volkswagen's Head of Marketing and Sales for the Tiguan R, Peter Jost.
 
Peter was thrilled that the 10,000th Tiguan R found its home in the UK. "This is a big milestone for us, but it doesn't come as a surprise. The Tiguan is already Volkswagen's most successful SUV globally." He said before adding "I'm delighted for Trevor that he will experience what this car is truly capable of on a track – the place all Volkswagen R models are developed."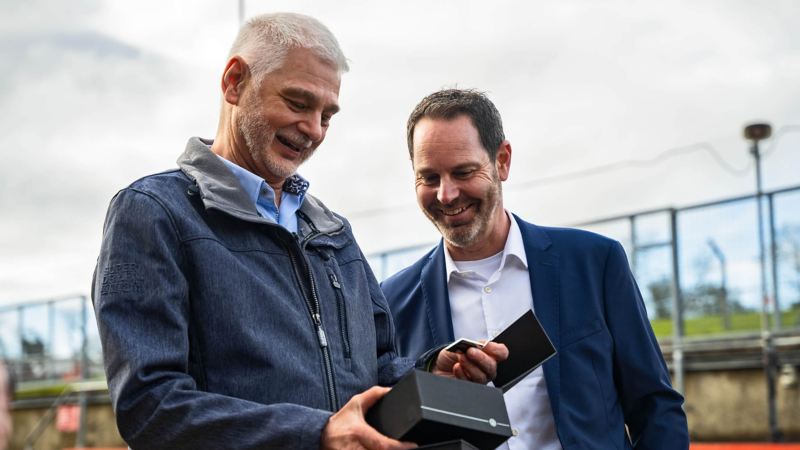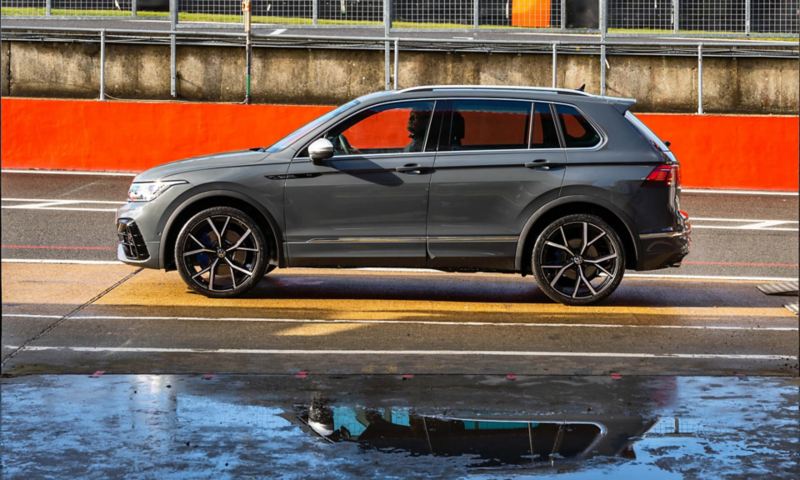 After the handover, it was time to let Trevor take the Tiguan R out on the track. After a few passenger laps alongside a professional driver, Trevor took the wheel of one of our test Tiguan R models and put the 320PS four-cylinder 2-litre turbocharged engine through its paces.
 
Watching from the sidelines were Luke Hanman, General Sales Manager at Marshall Gatwick, and Brooke Chapman-Smith, the Sales Executive who guided Trevor through his order. They were thrilled to see Trevor experience the car on the track. "Trevor came to us wanting to part-exchange his Touareg; he wanted something slightly smaller that was fun, but still practical" Luke explained "Brooke and I both love the Volkswagen R range, so we recommended the Tiguan R."

Trevor was full of praise for Luke and Brooke "I can't fault them from the first inquiry to today. It was time for me to go down in vehicle size, and the Tiguan R fits that bill perfectly."
 
Once he'd taken the Tiguan R for a spin around the track, Trevor reflected on the experience "It was a surprise when they told me that mine was the 10,000th Tiguan R and that a special event was being planned for the handover. I thought it would be at the dealership, but this is great. I guess I've had the luck of the draw, and I'll take it!"
 
We're incredibly honoured to have given Trevor a handover experience like no other and wish him many happy years in his history-making Tiguan R.