Recycling your

Volkswagen
When the time comes to decommission your Volkswagen, up to 95% of it can be recycled and re-used by certified recycling companies. Discover more about the process and how we can recycle your Volkswagen for free (terms apply). 
Recycling starts when we develop the car. At Volkswagen, we put sustainability at the forefront of our end-of-life vehicle process chain.
To guarantee that as much of your vehicle can be recycled as possible, we:
Ensure all operating fluids can be removed from the end-of-life vehicle and that parts which are to be removed can be easily detached.

Prevent the production of harmful substances during technical

development

.

Use recycled material where permitted, such as in components that are not relevant to vehicle

safety

. All our recycled materials must meet the same quality requirements as primary materials.

All plastic components are labelled according to internationally applicable ISO standards so they can be clearly identified for processing.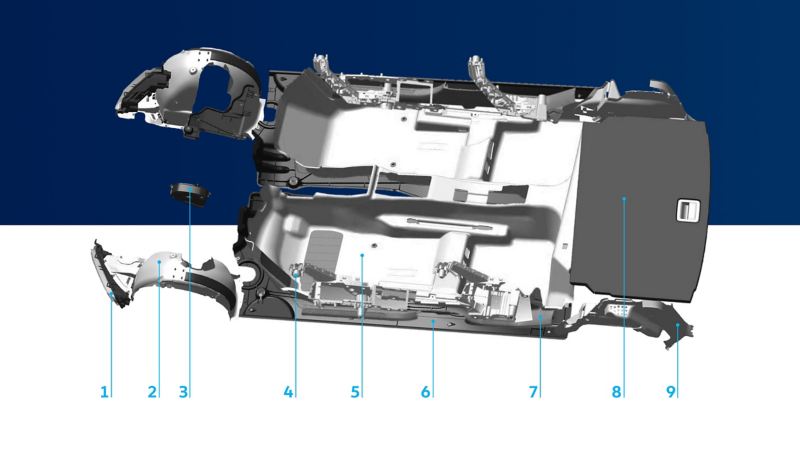 Recycled materials
All Volkswagen models use recycled materials. For example, we use the following recycled materials in various components of the Polo:
Door trim of the main body

Drag reduction underbody panelling

Luggage compartment floor
Our end-of-life recycling

service



Simple and free of charge
If it's time to recycle your Volkswagen, all you need to do is call 0800 542 2002 or visit www.rewardingrecycling.co.uk  to arrange collection or to deliver it to one of our many return centres.
From here it will be recycled for you, free of charge (terms and conditions apply).
There are five steps to the end-of-life process:
Conditions for free-of-charge recycling
The following conditions apply for a free-of-charge recycling:
Your

Volkswagen

is complete, i.e. it has all basic parts and components (including the engine, bodywork, transmission, catalytic converter (if originally fitted), major interior components such as seats, battery and wheels). Your vehicle does not have to be drivable nor does the engine have to run in

order

for it to be "complete".

Your

Volkswagen

does not contain waste or parts that do not belong to the vehicle.

You return your

Volkswagen

with the original registration document if available. You can then be issued with a certificate of destruction that is required to de-

register

the vehicle at the DVLA.
Once you've returned your vehicle to us it will then be prepared for recycling. Components or fluids that have been removed are collected separately to be re-used, recycled or re-purposed. This includes the following:
Airbags and belt tensioners are neutralised.

All operating fluids (fuel, engine, gear and shock absorber oil, brake fluid, coolant, refrigerant from the

air conditioning

system) are removed.
Before we press the vehicle, a variety of components are removed and immediately placed into the recycling circuit. We remove the following components:
Catalytic converters. Precious metals, including platinum, palladium and rhodium.

Components and powertrains for use as used-approved replacement parts.

Plastic parts for material recycling. dependent on the current market demand for recycled materials.
The car is then pressed and the remaining pre-treated body is broken down into fist-sized pieces in a shredder. This allows the body to be separated into several material groups using a variety of techniques, including:
Re-usable scrap metal accounts for 75% of the entire vehicle. There are three categories of scrap at this stage:
Ferrous and steel materials, which can be used as raw material for high-quality steel.

Heavy fraction shredder scrap, which includes non-ferrous metals, such as copper, aluminium and zinc.

Light fraction shredder scrap, which contains the seats from your end-of-life vehicle, amongst other parts.
The light fraction shredder scrap and non-metal elements of the heavy fraction shredder scrap contain valuable organic materials. In post-shredder processes, residues are reduced even further and separated from one another, allowing them to be re-used. The reusable materials extracted during this phase are:
Processed shredder granulates, composed of hard plastics that can be used in steel production as a replacement for heavy oil or coal dust.

Shredder fluff made up of textile fibres and seat foam, which can replace high-quality coal dust as a de-watering agent for sewage sludge.

Shredder sand, composed of glass, rust and paint residue, which can be used as construction material following additional processing.
As a producer of batteries we are required to be registered with the Government as part of an EU-wide initiative to increase battery recycling and never use landfill or incineration to dispose of them. Volkswagen Group UK Ltd. is registered as a Producer of Batteries under Registration Number BPRN00504 and manage our obligations in partnership with Clarity Environmental.
Industrial Batteries
As a producer of industrial batteries under the Waste Batteries and Accumulators Regulations 2009, Volkswagen produce NiMH, Li-Ion and lead-acid industrial batteries. We are obliged to take back free of charge, waste industrial batteries supplied to an end user for treatment and recycling. We are required to do this in any calendar year we place new industrial batteries on the market. If any of our customers or in certain cases other end users, require us to take back Industrial batteries, they should contact us at environment@vwg.co.uk.  We will agree the necessary arrangements for the return, proper treatment and recycling of the waste industrial batteries. 
Automotive batteries
As a producer of automotive batteries under the Waste Batteries and Accumulators Regulations 2009, we Volkswagen are obliged to collect, free of charge and within a reasonable time, waste automotive batteries for treatment and recycling from final holders e.g. garages, scrap yards, end-of-life vehicle Authorised Treatment Facilities, Civic Amenity Sites, etc. We are required to do this in any calendar year we place new automotive batteries on the market.
If you require us to take back any automotive batteries, please contact us at environment@vwg.co.uk. We will agree the necessary arrangements for the collection, proper treatment and recycling of the waste automotive batteries.