Maintaining

Electric

Car Batteries in Cold Weather

Freezing weather and minus temperatures drain lithium-ion batteries more quickly. It's the same with your smartphone as it is with your electric car. Why is this, and how can you protect your battery and charge it properly in cold weather? (Image: Getty Images)
Freezing weather and minus temperatures drain lithium-ion batteries more quickly. It's the same with your smartphone as it is with your electric car. Why is this, and how can you protect your battery and charge it properly in cold weather? (Image: Getty Images)
Find out here about how batteries behave in cold weather:

Batteries drain more quickly when the temperatures drop.

This is because the electrolyte fluid becomes thicker, slowing down the electrochemical process. The flow of electricity is slower and weaker.

This can reduce the range of

electric

cars in cold weather.

Therefore, you should charge your battery while it's still warm, if possible.
When your battery freezes

We've all had this problem: you leave home with your mobile phone, and the battery is almost full. But the power quickly drops into the red zone in freezing temperatures. Or your smartphone might even switch off. With older models, this can happen more frequently. But even the batteries of new smartphones drain more quickly in extreme cold.
Why is this? The cold causes the electrolyte fluid in lithium-ion batteries to become thicker. This makes the electrochemical process considerably slower and the battery's internal resistance increases. The lithium ions then have more difficulty moving between the cathode and the anode. If a smartphone or other electrical device suddenly requires a boost of energy, the battery voltage will drop. This in turn can lead to deep discharge. As this can damage the battery of a mobile phone, many smartphones switch themselves off in cold weather to prevent this from happening.
At what temperatures does a battery work best?

Older devices that have already been recharged very often are more likely to be affected. Possible damage in older batteries can cause a sudden drop in the electrical voltage in cold weather. Having said that, lithium-ion batteries can usually be charged up to 3,000 times without any adverse impact on their performance.
A battery may drain or age more quickly in very cold or very hot weather. Faster ageing is a risk at temperatures above 40 degrees Celsius, in particular. Extreme heat can speed up the processes in the lithium-ion battery. And this causes the battery to age more quickly. Maintenance of the charge is no longer ideal, which can reduce its capacity.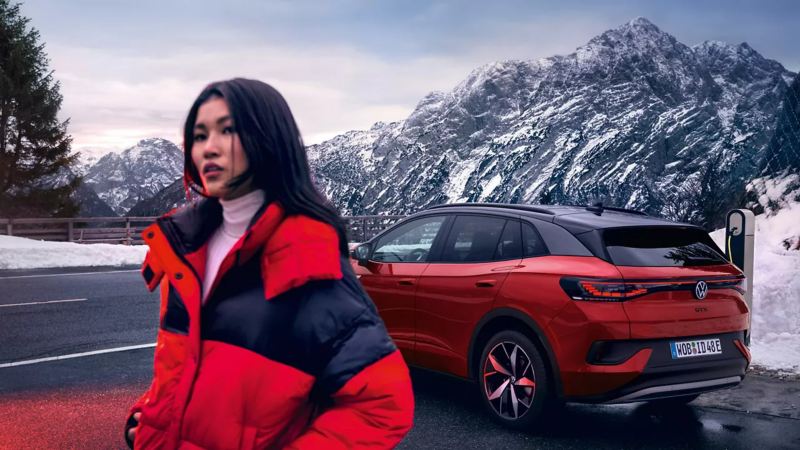 Looking after your car battery in freezing temperatures

It isn't 'just' the lithium-ion batteries of smartphones that work best at moderate temperatures of between 15 and 25 degrees – the same applies to the batteries of electric cars. By contrast, frost and cold temperatures can reduce the range or make your acceleration less powerful on starting than at moderate temperatures. The battery will warm up and deliver its full power as you continue driving.
However, drivers of electric cars can do several things to ensure they have full power when they set off, and also to counteract the power drain for heating the interior. It's best to park your electric vehicle in a warm garage, not outside. Drivers are recommended to pre-heat their car by preconditioning it and setting the charge timer before they set off, especially before longer journeys. There is no drain on the battery if the vehicle is still connected to the charging station. This lets you start your journey with a fully charged battery, even though the high-energy heating process has already taken place. Drivers are also recommended to turn the heating down a little if they wish to save power when driving. The temperature of the heated seats can be raised to ensure passengers stay pleasantly warm. This is more economical than using interior heating.
People who drive often or drive long distances in cold weather should also consider the equipment fitted in the car when they buy it. The three all-electric Volkswagen ID. Models, the ID.5, ID.4, and ID.3, are optionally available with a heat pump, which ensures the energy-efficient heating of the vehicle interior. This has the advantage of needing less power from the battery and enabling a greater range in winter.
Charging

electric

cars properly in cold weather

Frost and freezing temperatures can lengthen the charging time of electric vehicles – especially when the battery is cold. You need to take this into account when scheduling charging stops. Another recommendation is to charge the battery when it is still warm. Ideally, the wallbox should be located in a garage or underground car park, not outdoors. It's also best not to wait until the battery is fully drained, as this reduces the voltage, which in turn lengthens the charging time. Following these simple suggestions will ensure that you always drive with sufficient power during the colder months of the year.