Golf

Mk 2:

Bigger

, bolder, brighter
In 1984, Volkswagen reimagined its smash hit hatchback for a new decade. The Golf Mk 2 emerged into a world of fast fashion, pop culture obsession and radical reinvention. Would it have what it takes to make it?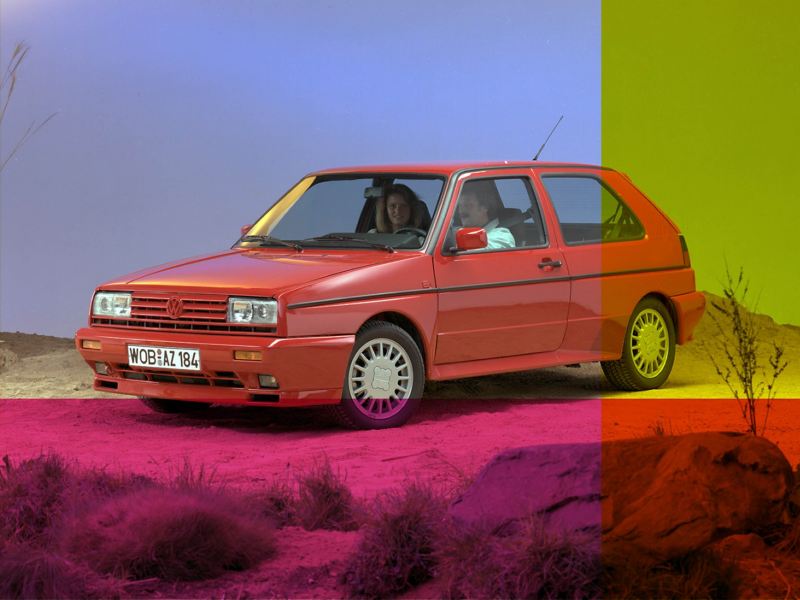 The Eighties were the decade when pop culture erupted like never before. From hip hop to dayglo. From MTV to ripped jeans. From big hair to the Breakfast Club. Nothing was off limits and everything was bigger, bolder and brighter.
It was a precarious moment when the Golf Mk 2 launched in the UK in March 1984. At a time when remixing had been elevated to an artform, the success of the Golf Mk 1 meant that drivers were now spoiled for choice as a host of rival hatchbacks entered the market. The fickle finger of fashion could easily point in a different direction.

The task of reimagining Giorgetto Giugiaro's original lines fell to Volkswagen's head designer Herbert Schäfer. He made the Golf Mk 2 longer and roomier, with an altogether more substantial look that resonated with the power-dressing sharp lines and wide shoulders of the day.
The later addition of distinctive 'big bumpers' have completed the Golf Mk 2's iconic Eighties styling, but it was the Volkswagen badge that inspired one of the most unusual trends of the decade, when Mike D of the Beastie Boys' wore a Volkswagen badge as a necklace in the video for (You Gotta) Fight for Your Right (To Party!).

His novel fashion accessory sparked a pandemic of badge thefts by imitators from Birmingham to Brooklyn. Volkswagen responded with a newspaper ad featuring a Golf Mk 2 with a missing badge that told fans that instead of stealing, all they had to do was write and ask and Volkswagen would send them a badge for free.
A year after its release, the Golf Mk 2 won the 'What Car? Magazine' Car of the Year. And then, as if to prove the riot of creativity wasn't limited to the fields of fashion, film and music, Volkswagen embarked on some remixing of its own.

Alongside the C, CL, GL, GT and range topping Carat trims, there were variants like the rugged Golf Country offroader and the motorsport inspired Golf Rallye with its unique rectangular headlights and supercharged engine.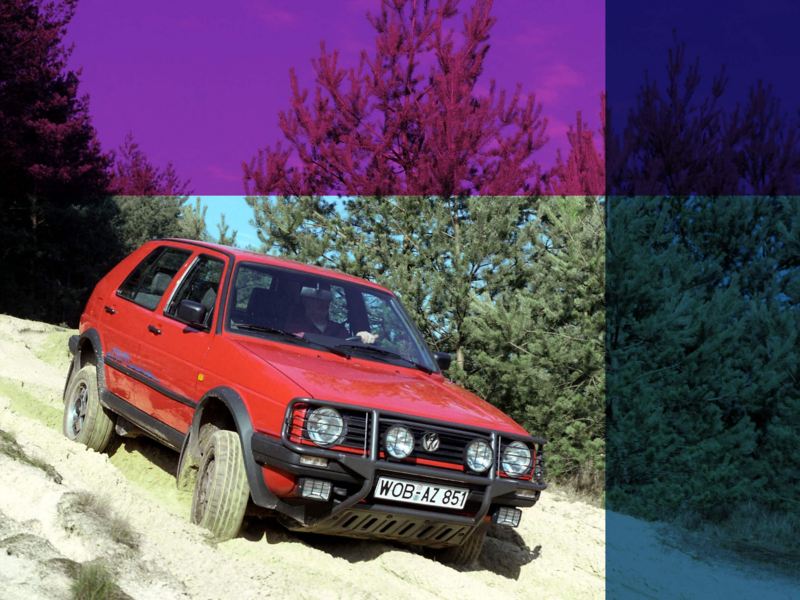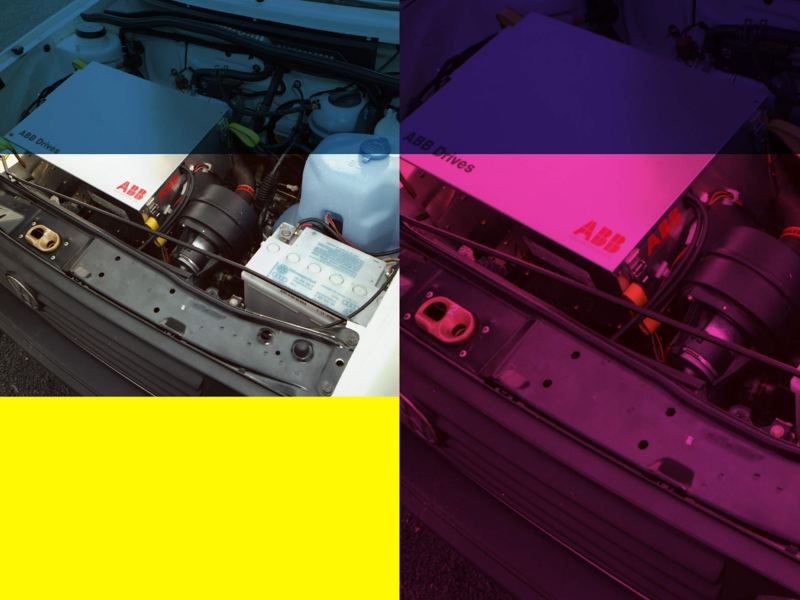 At a time when imagining unlikely futures was all the rage in box office hits like Blade Runner and Mad Max, Volkswagen's most audacious variant showed the true shape of things to come. With sixteen batteries and a range of just over 30 miles, the groundbreaking Golf II CitySTROMer became the first ever all-electric Volkswagen passenger car to go on sale to the public.

Digital technology also experienced its first consumer boom in the Eighties. Home computing became a reality with Amstrad, Sinclair, Commodore and even BBC 'micros' invading the nation's living rooms, inspiring movies like Tron and bands like German electro-pop pioneers Kraftwerk to imagine what life would be inside our new computerised world.
The first Golf to go digital was the new Mk 2 GTI. Affectionately nicknamed the 'Pocket Rocket', it had a 16-valve engine that could deliver 0-62mph in a blistering 8 seconds, and a cutting edge digital display so you could watch it happen.
 The Eighties started with a bang and would end with a collapse. In 1989, the Cold War ended as the Soviet Union disintegrated. The oppressive Berlin Wall that had divided Germany for nearly 30 years was toppled as East Germans flooded to reunite with West Germans for the first time in decades. 
One of those liberated East Germans was a 35-year-old doctor of chemistry, who would one day become Chancellor of Germany. Her name was Angela Merkel, a rising star of politics who had distinguished herself early in her career with her pragmatism and sound decision making. And the first Western car she bought? A Volkswagen Golf Mk 2.
Just as revolution had come to Europe, so it would come to Volkswagen. By 1991, the Golf Mk 2 had sold 6 million models worldwide and broken into new markets like China and Eastern Europe. It was much loved and had established itself as the benchmark for all hatchbacks, but nobody in Wolfsburg was resting on their laurels. The time had come for the Golf Mk3.