First electric Volkswagen
1970: The year our

electric

journey

began

First electric Volkswagen
1970: The year our

electric

journey

began

When the Volkswagen ID.3 arrived in the UK in August 2020, it was only the latest landmark in a remarkable all-electric journey that started more than 50 years ago.
For most manufacturers, electric cars are a relatively recent innovation. The earliest adopters only began to mass produce all-electric vehicles in the last decade. So what drove Volkswagen to start developing electric cars way back in 1970?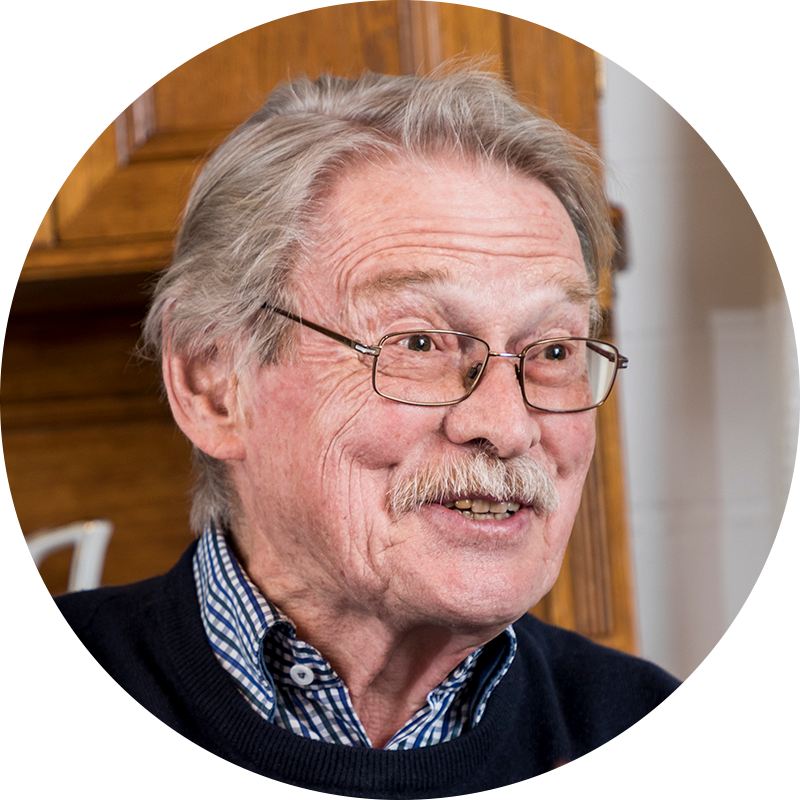 During the late Sixties, it was commonly believed that the planet's oil reserves would run out some time in the 1990s. We now know this estimate was wide off the mark, but at the time it was all the motivation Volkswagen needed to set up its Centre for Future Research.
Leading the initiative was the now-legendary Dr Adolf Kalberlah, an electro-chemist and specialist in the field of battery research. And it wasn't long before he and his small team of ten specialists started to produce results, with a major breakthrough in electric motor control.
Unlike today's small and compact batteries, the team had to use the best technology available at the time, which was an older and much heavier form of lead accumulator weighing an impressive 850kg - more than an entire Volkswagen Beetle.
Dr Kabalah needed a chassis that could carry all that weight and settled on a T2 Camper. This first all-electric Volkswagen, dubbed the Elektro Transporter, began testing in 1972. It had a range of 43.5 miles, a top speed of 43.5 miles per hour and could charge to full in 10 hours from the ordinary plug socket in your house.
In was a groundbreaking concept. The team even came up with an impressively quick way to change a flat battery for a full one. 
The batteries fitted perfectly under the loading bed and could be removed like a drawer - with the aid of a forklift truck.

A colleague of Dr Kalberlah's at the time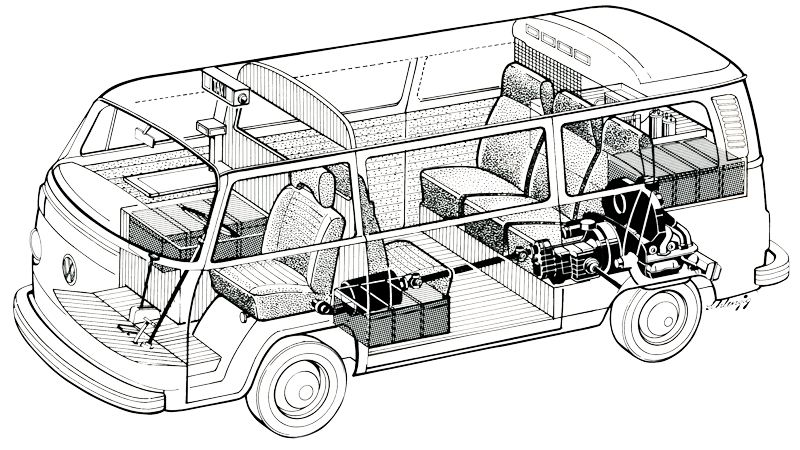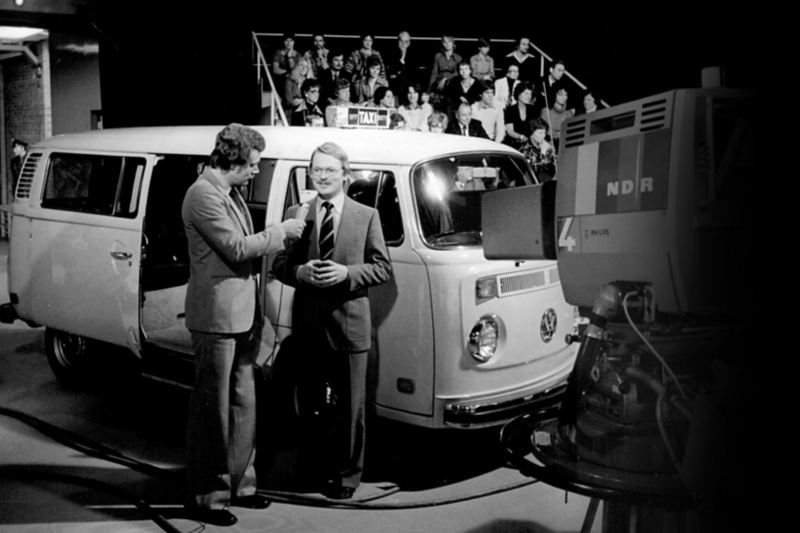 Volkswagen continued to develop the Elektro Transporter, building as many as 70 versions between 1973 and 1975. Two short years later, the Elektro Transporter went on sale to the public and 20 were sold under the memorable slogan: "Zero litres per 100 kilometres!"
But Dr Kalbalah's team wasn't about to rest on its laurels.
In 1976, the team unveiled its first hybrid vehicle - its entry into a competition launched by the Museum of Modern Art in New York to find the Taxi of the Future. Dr Kalberlah's CityTaxi was an overnight sensation. On his return to Germany he was hailed as the 'Father of the Electric Drive'.
In the same year, Volkswagen produced the first electrically powered version of its exciting new hatchback, the Golf. This prototype was a one-off and it wasn't until 1981 that the development of a commercially viable electric Golf - the Golf CitySTROMer - began.

In 1983, Volkswagen launched its first hybrid Golf concept - a Mars Red Golf I with twin-shaft electric hybrid drive system. And then, in 1991, it unveiled a concept hybrid minicar known as 'Chico' at the IAA in Frankfurt. It had a straight-twin petrol engine plus an electric motor, making it economical, reliable and fun to drive.
The Golf III CitySTROMer became Volkswagen's first production electric car between 1992 and 1996. A total of 120 were sold and, incredibly, as many as 50 are still on the road at the time of writing. It is widely recognised as a trailblazer and is sought after by transport museums around the world. A Golf III CitySTROMer stands proudly in the reception of Volkswagen HQ in Milton Keynes.
A series of leading edge electric innovations followed, including the Golf IV Highbrid in 2002, powered by fuel created from wood chips; the Space Up! Blue in 2007, a people carrier powered in part by the solar panels in its roof; and in 2011 the Nils bubble concept car - a one-seater with gull wing doors, powered by lithium ion batteries.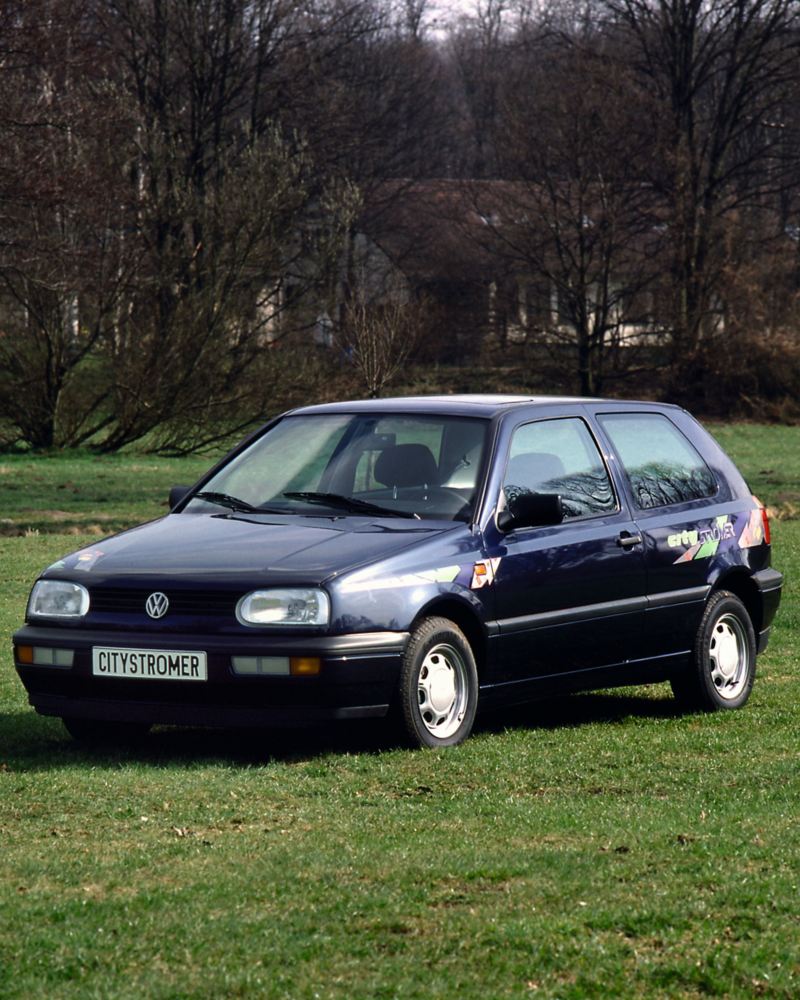 More recently, the Volkswagen e‑Golf made its debut at the 2013 Frankfurt Motor Show, with a practical all-electric range of 80 to 118 miles. The last e‑Golf model released in 2020, brought significant increases in performance and efficiency, with a WLTP tested range of 144 miles.
By contrast, the new ID.3, based on Volkswagen's revolutionary modular electric drive matrix (MEB) platform, has an impressive WLTP tested range of 205 - 336 miles.
But for Volkswagen, the ID. range is just the start - the beginning of another fresh and exciting chapter of innovation in electric mobility.