Illuminating the road ahead
From automatic headlights that know just how much light you need, to clever lights that can shine round corners, we've made sure you're never left in the dark when driving.
Why good lights are vital
Driving at night requires extra concentration. Your vision is reduced and it can be more difficult to see vulnerable road users such as pedestrians and cyclists. According to statistics from the Royal Society for the Prevention of accidents 40% of road accidents occur after dark, so it's clear that good lights are an essential factor in road safety and driving comfort.
Ambient lighting
Ambient lighting bathes the interior of your car in subdued light when it gets dark.
LEDs light areas such as doors, footwells and decorative inserts. The pleasant, discreet lighting complements the white illumination of switches and buttons in your car, creating a stylish atmosphere.
When you're driving at night, the glare-free light also helps you to find your bearings and locate things more easily.
For more information watch our ambient lighting video

Ambient Lighting Plus
In addition to the above, the Ambient Lighting Plus system also includes LED interior lighting, with three different colour options. LED lighting also adorns the dashboard.
Bi-Xenon headlights
Bi-Xenon headlights shine further than conventional halogen headlights to illuminate more of the road ahead. They are brighter and clearer - xenon light is similar to daylight - so you'll find night driving easier and less tiring on your eyes. These lights also use less energy and last longer. Bi-Xenon is a special version of the xenon headlight and allows a single headlight to generate both high and low beam. When you select low beam, a moving shutter partially shields the light. To switch to high beam, an electromagnet moves the shutter out of the light beam's path.
Halogen headlights
Our Halogen clear headlights are ideal for driving at any time, day or night. The headlights are range adjustable through the infotainment system, and the LED daytime running lights ensure a well-lit route, wherever you're going.
Dynamic cornering lights
Our Bi-Xenon headlights with dynamic cornering light give up to 90% better illumination of corners as the headlight beam will swivel to follow the angle of your steering wheel.
How does it work?
The steering movement of the headlight units, which include small servomotors, is controlled by signals from the steering angle sensor, among other things. The maximum swivel angle of the cornering lights is 15 degrees. This gives you early warning of any hazards and some vital extra time to react.
Predictive dynamic cornering lights
Using both the camera and data from the GPS navigation system, the predictive dynamic cornering lights system begins to light corners before you start to turn the wheel. It offers improved visibility on winding roads.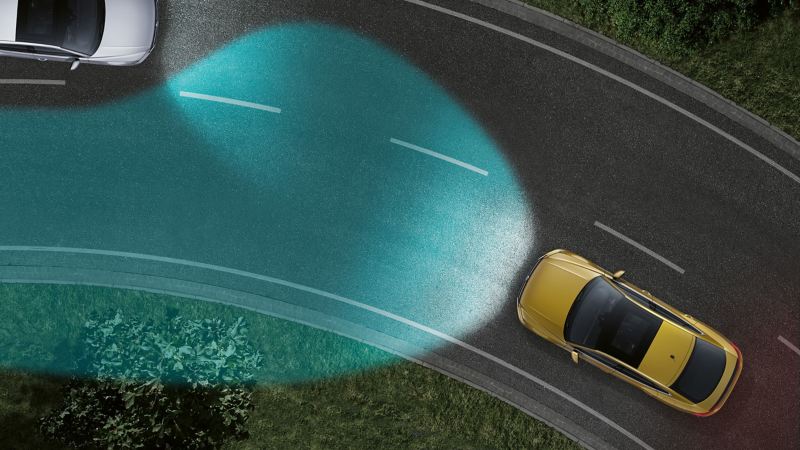 Static cornering lights
Our static cornering lights provide an extra light source behind the headlight reflector. When you turn the steering wheel, or indicate, a small additional reflector with a separate halogen bulb lights the area you're turning into, over several metres at an angle of 35 degrees. As a result, the driver spots potential hazards sooner and more easily. The static cornering light's clear signal effect also alerts other road users.
Automatic headlight range control
Ensures the optimum headlight setting and illumination of the road ahead. It keeps your beam range constant, however heavily your car is loaded, stopping your headlights from shining too high and dazzling oncoming traffic. The control function automatically adjusts the headlights' angle, depending on the load in your car. It comes in either static or dynamic versions. Static systems adjust to compensate for the extra weight of the passengers and their luggage. The control unit processes information it receives from tilt sensors in addition to signals from the electronic speedometer and the ABS braking control unit. It can then work out whether the car is stationary or travelling at a constant speed. The dynamic system can also correct the headlight setting when your car is pulling away, speeding up and slowing down by monitoring changes in the speed signals via its powerful control unit. Its actuator motor also adjusts at a higher speed to correct the headlight range within a fraction of a second. Automatic headlight range adjustment is a legal requirement on vehicles fitted with Bi-Xenon headlights.
Dusk sensors
Our dusk sensors detect light levels and automatically turn on the headlights when the light is low, helping you to drive more safely. The dusk sensor system is fitted close to the rain sensor, behind your internal mirror. It detects light levels and automatically turns on the dipped headlights when the levels are low - for instance, when you are driving through a tunnel, at night, or when dusk sets in. Your headlights must be switched on to auto setting for the dusk sensors to work. They turn off automatically once you're back in the light.
Coming Home / Leaving Home System
The 'coming home' and 'leaving home' functions are designed to improve your convenience and comfort. When you get out of your car, various lights, including the dipped-beam headlights, courtesy lights in the exterior mirrors, rear lights and number-plate lighting, all stay on for a short while before they are switched off automatically. The same lights are switched on when you unlock your car with the remote control. In this way your car's lights help to illuminate the way to and from your front door, whenever you arrive or set off in the dark. Note the functioning described does differ between models, please refer to the model pricelists for specific details.
Dynamic Light Assist
Dynamic Light Assist optimises illumination of the carriageway for even greater safety on the road. The system with variable road illumination allows the main beam to be left on continuously without dazzling oncoming traffic. This is possible thanks to a masking function which can partially dip the main-beam headlights. The information on other road users and the street lighting is captured by a camera on the interior mirror and relayed to the Dynamic Light Assist system. This significantly improves illumination of the entire carriageway. Dynamic Light Assist produces a brand new lighting sensation that is always perfectly tailored to the traffic situation.
For more information watch our Dynamic Light Assist video
High Beam Assist
High Beam Assist dips your high beam automatically to improve driver control and safety for both the driver and other road users. The system is automatically activated when travelling over 37mph with your dipped beams on. Using a camera built into the rear-view mirror, the system automatically dips the headlights when it detects either oncoming traffic or vehicles ahead. It is easier than constantly switching from high to dipped beam and safer too, giving you the best view of the road ahead without dazzling other road users.