1
EV home charging

We've teamed up with Ohme to make home charging greener and cheaper.
We've teamed up with Ohme to make home charging greener and cheaper.
Ohme (pronounced "Oh-me") provides drivers with easy-to-use home chargers to help speed up the world's transition to electric. They've been voted the Best Electric Charging Point Provider by Business Motoring for two years. No wonder they're one of our recommended and trusted home charging partners.
Ohme has a range of home EV chargers to choose from. They boast innovative features like smart scheduling that charges your car when tariffs are lower.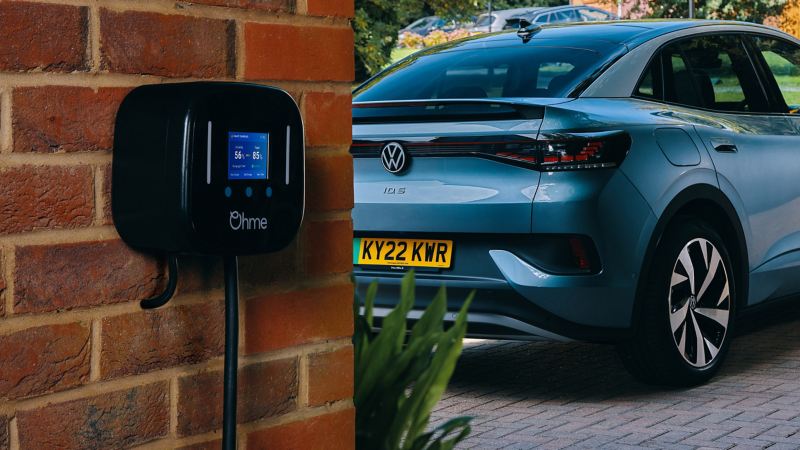 Your charging your way with Ohme
Sync with your electricity tariff and charge when costs are lower.

You can schedule your charges so your car is ready to go whenever you are.

Ohme's 'Max charge' gives your vehicle a battery boost in rapid time.

Cap your charging prices to control your costs.

Check-in on your charging history to keep tabs on your spending.

Ohme charges your vehicle when carbon intensity on the Grid is at its lowest.
Simple set-up 
With Ohme guiding you through the process, installation couldn't be easier. After installation, Ohme's easy-to-use app will get you up and running quickly.
Low-Cost charging
Ohme regulates when your car charges based on when times are cheaper and when you need your car ready to go.
Smart technology
Ohme's chargers seamlessly integrate with smart EV energy tariffs.
Customer Focussed
Ohme puts the customer at the heart of everything they do. Their dedicated customer team is there to help you whenever you need it.
Tariff integration
Save up to £800/year* compared to standard chargers and tariffs.
Smart control
Set your preferences and manage your EV charging remotely.
3 year warranty
Fully covered for zero stress.
Over-the-air updates
Automatically keeps your charger's software up to date.
Dynamic load balancing
Keep your electric supply from becoming overloaded.

Regulation compliant
Fully compliant with the new Smart Charger Regulations.

*Based on using a Time of Use or EV specific energy tariff and driving 10,200 miles a year.

Stylish and discreet
At just 17cm (height) x 20cm (width) x 10cm (depth), the wallbox subtly blends in with your home.
7.4 kW
Boost the speed for safe, fast, smart EV charging.
OZEV grant
Find out if you could save £350 on your installation here.
Value for money
Smart tech, low price.
In-built PEN fault device
Built-in for safety. Helps save time and cost on installation.
Installation included
This offer includes a standard installation.
The Ohme Home Pro puts you in control.
Watch this short video to discover how to start, stop, and schedule charging sessions.
Use the app to get the most out of your Ohme charger
Setting up an account with Ohme is simple. Watch the video for a step-by-step guide.
Configure

your perfect

electric

vehicle from the ID. Range. 

Pick which member of the ID. Range you want, and use our configurator to select its colour, wheels, engine, and more.