The ID. Charger – the Wallbox from

Volkswagen

coming late 2022

The new

Volkswagen

ID. Charger is intelligent, efficient and innovative. Discover a truly modern way to recharge.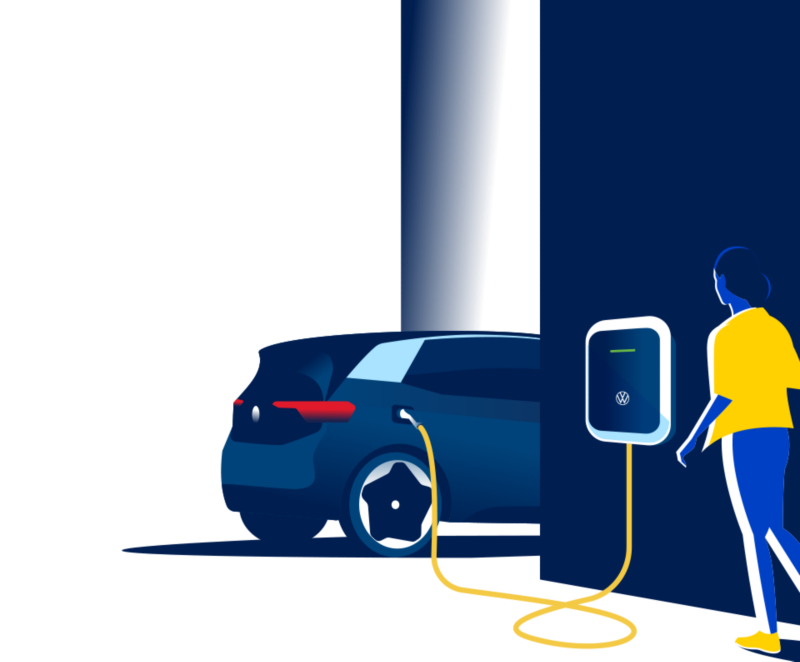 The fuel station for your home

This will make electric mobility even more convenient: simply come home, connect your electric vehicle and relax – and then start the next day full of energy. Bringing the future to today. Individual and practical. With all the advantages and functions, our ID. Charger offers you exactly the right charging solution for your home and your needs.
Sign up to our electric newsletter and you'll be the first to know about the latest electric products and services.
Short charging time. Long driving pleasure

The ID. Charger charges your vehicle faster than using a domestic plug socket. At 7.4 kW the ID.3 is fully charged overnight from empty to full in 9.5 hours.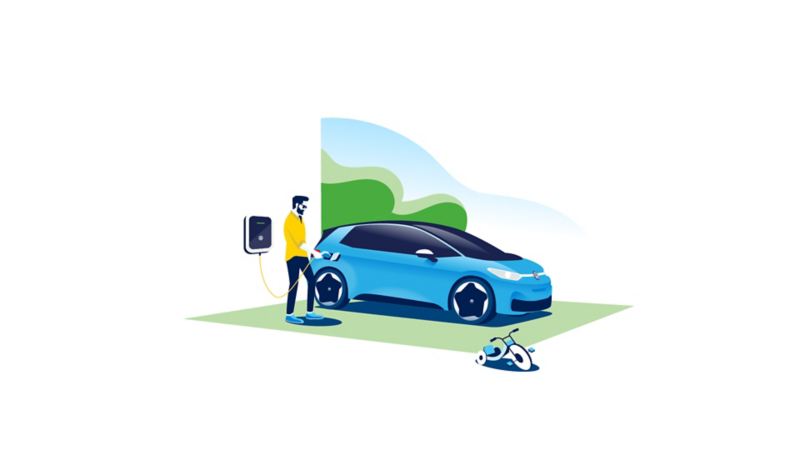 Comfort through compatibility

Using the ID. Charger, you can charge all current and future electric vehicles from Volkswagen as well as those of other manufacturers with a type 2 connector. The charging cable is permanently connected to the charging station, putting an end to searching, untangling and stowing away – another added comfort.
Access restriction for greater

security



You decide who is allowed to use your ID Charger. You can authorise vehicles and lock or unlock the wall box via RFID or We Connect ID. app.
The ID. Charger Pro connects to the Internet via WiFi, Ethernet or LTE including a data package.
With the We Connect ID. app, you can always access your wall box on your smartphone so that you can to manage charging and much more.
With its MID-certified electricity meter, the ID. Charger Pro is perfect for everyone who needs accurate and individual current measurement, such as company car drivers.
Attractive price and performance

Our ID. Charger Pro lets you charge your electric car faster and more comfortably while also benefiting from the EVHS Government Grant.
High-quality,

Volkswagen

design

Fixed charging cable up of 4.5 m or 7.5 m long

Integrated residual current circuit breaker

Compatible with overload protection equipment

Internet-compatible via WiFi or LAN plus LTE module as standard

Intelligent energy management via EEBUS

Electricity meter for billing1
The perfect connection:
Internet and the ID. Charger  
The ID. Charger Pro can provide you with helpful information in real time – directly to your smartphone via the app.

The ID. Charger Pro comes with online functionality as standard and can connect to the Internet in your home via WiFi or Ethernet (LAN).
LTE
Our charging station is also LTE-capable with activation and unlimited data volume included. This ensures optimum communication between the wall box and the We Connect ID. app.
MID electricity meter
The ID. Charger Pro has a built-in MID electricity meter which ensures transparency, for example between company car drivers and employers.
Simple and convenient: our installation

service



Do you want a wall box for home use? All you have to do is opt for our installation service and then you can sit back and relax.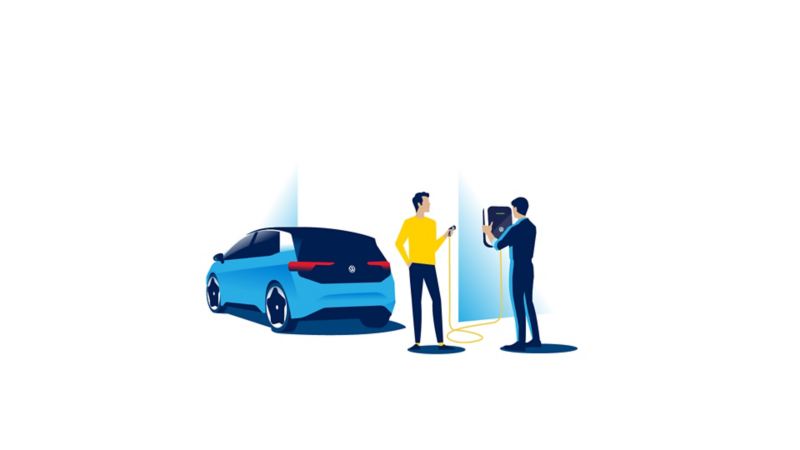 The all-round carefree package

With the optional installation service – carried out by Centrica plc / British Gas and guaranteed by our subsidiary, Elli – you can be sure of expert and professional advice, installation and commissioning of your ID. Charger. The installation package includes the following services:
Registration with the distribution network operator

Installation and commissioning

Up to 15 meters of cabling

Up to two wall break-throughs

Residual current and line protection

The following are not included in the package:
Excavation and earthworks

Extension of the fuse box

If you would like use our installation service (available from 2022), we recommend that you carry out our free online pre-check in advance. With just a few clicks, you will be able find out whether it is generally possible to install a charging station in your home.

Installation without complications

The most important thing about the Volkswagen installation service: once agreed, you don't have to worry about anything else. We provide everything needed for the installation service. From expert knowledge to safety switches and cables.

First of all, you carry out an online check. Then we will work with you to find a suitable location for your ID. Charger, install it and put it into operation. Finally, we test the charging station with your electric vehicle - or with a test device if you don't have one yet. Our job is not done until electricity flows and your car is charged properly.