How to look after your battery
A quality, working battery is essential to the good running of your Volkswagen. Find out more about our AGM starter batteries and get answers to some frequently asked questions.
Volkswagen

genuine

starter batteries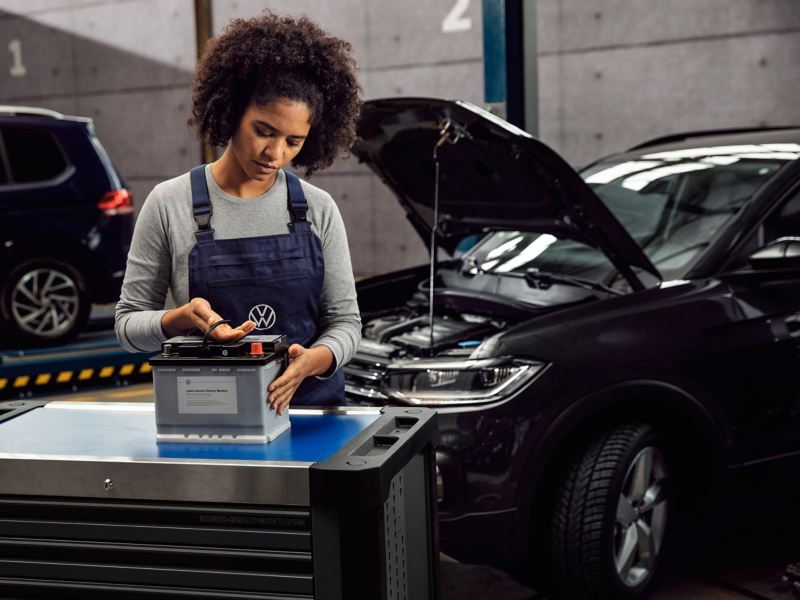 What does your vehicle need to be ready to roll? Energy from the battery! It's the most common cause of breakdowns, so a good quality and regular checks are essential.
An overview of our car batteries

What types of battery are there?

EFB/EFB+ starter battery:
EFB (Enhanced Flooded Battery = flooded, optimised lead-acid batteries) batteries impress with a long

service

life and low self-discharge rate and are well-suited to cars that feature automatic start/stop

technology

.


AGM starter battery:
AGM (Absorbent Glass Mat = battery acid absorbed and held in glass mats) batteries boast high performance and an interior installation and are well-suited to vehicles with numerous electrical equipment components, e.g. heated seats or

air conditioning

.


Lead-calcium starter battery:
Our

maintenance

-free lead-calcium batteries (= conventional lead-acid batteries) have a long

service

life and are mainly installed in models that feature automatic start/stop

technology

.


EFB/EFB+ Economy battery:
For your

Volkswagen

that is four years old or more, we

offer

an Economy version of our start/stop batteries: They are slightly adjusted standard parts in verified

Volkswagen

quality and reflect current market values.

Prices for our batteries can be requested from your Volkswagen Retailer.

Starter batteries in

electric

cars

Did you know that electric vehicles also contain a starter battery alongside the traction battery?

Benefits for vehicles with automatic start/stop

technology

The benefits of our EFB and EFB+ batteries at a glance:

For automatic start/stop

technology

:
Thanks to their high quality, these batteries are suitable for the more frequent starting processes in vehicles with automatic start/stop

technology

and are tailor-made for your

Volkswagen

.


Strong performance:
Due to high-grade materials and an above-average lead content, which helps cover the considerable energy demand.


More effective power consumption and charging capacity:
Thanks to surface-active carbon additives – EFB+ version only.


Long

service

life:
Due to low self-discharge rate. They're also

maintenance

-free, so you don't have to top up the water or check the electrolyte.


High cold-start reliability:
Reliable at temperatures as low as -25 °C.

In addition to the benefits of EFB and EFB+ batteries, our AGM batteries also

offer

you the following:

More power:
You can enjoy more power and improved cycle stability.


More protection:
Compared with EFB/EFB+ batteries, AGM starter batteries are more resistant to corrosion and have reduced acid layering. The battery acid is completely bound in a glass mat, making them leak-proof. This is important as they are installed exclusively in the interior, e.g. in the luggage compartment.

Battery FAQs
Click on the questions below to reveal the answers.
Keeping you going
Our battery services make sure that your car's electronic components are getting the power they need. To get your battery checked, book a service at your local retailer.
Do you need a new battery?
Long periods of inactivity, lots of short distance trips and other factors may damage your battery over time. Our experts will ensure you get the right replacement quickly.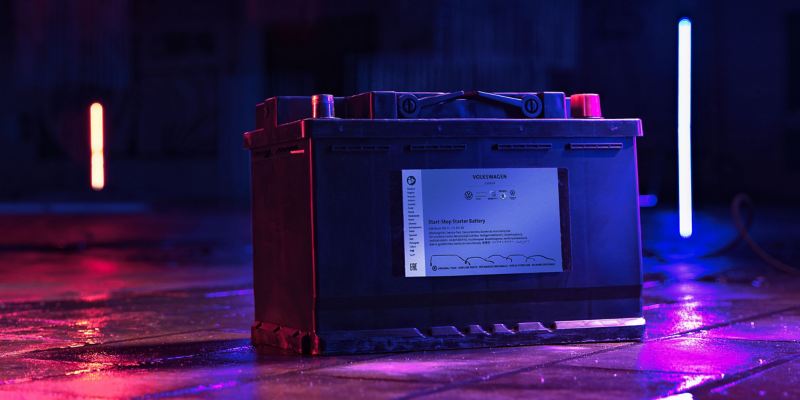 Return and recycling of batteries
Do you need a new battery and are wondering what to do with the old one? Can your used battery be recycled? Answers to this questions and more are available here.