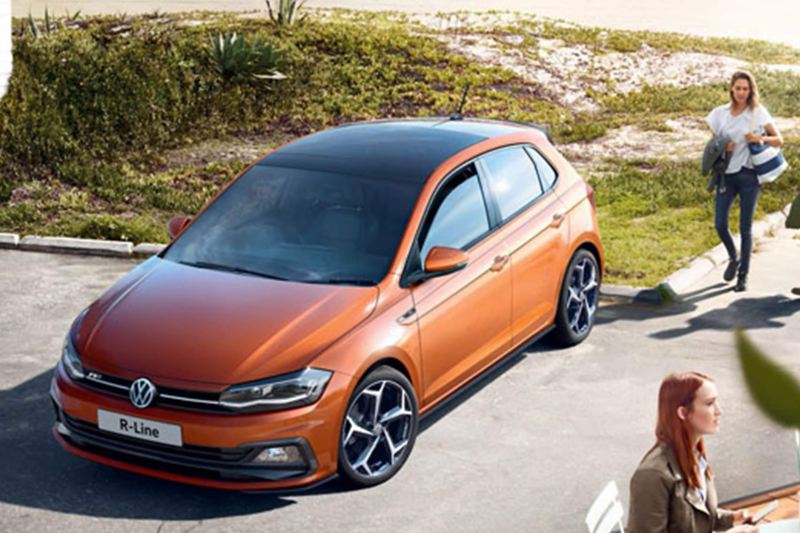 Exterior
Style
Delight in the details. Volkswagen's signature "Tornado line" creates a clear contour that sweeps around the new Polo, arching over the front side panels, gliding along the standard four doors and curving around the rear. It entices your eyes around the vehicle, conveying a dynamic sense of movement that will keep you gazing for hours.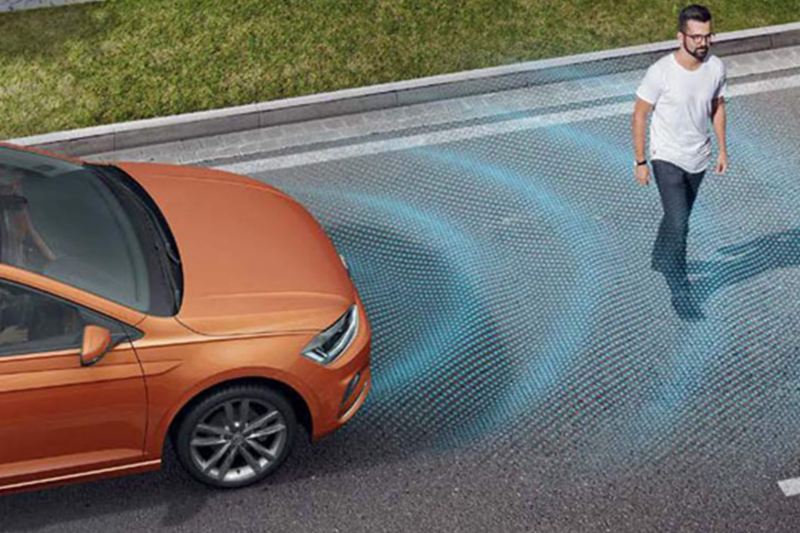 Technology
Front assist
Take the stress out of unexpected situations. The new Polo keeps you safer than ever before. If the optional Front Assist detects a possible collision, it lets you know with an acoustic and visual warning, and prepares the car for emergency braking. If you don't react, City Emergency Braking steps in to slow the car down, with the aim of fully avoiding a collision or reducing its impact.
As our cars become more digitally connected and we move to a more digital future, we're no longer producing the traditional brochure and price list. The documents below don't apply to our current models and are for information purposes only.
Whatever lies ahead, the New Polo has got you covered.
Used Polo Match
Our entry level Polo Match is impressively equipped, with many stylish touches. The model offers unbelievable value and a wide range of safety features as standard.

Used Polo ACTIVE
The ACTIVE impresses everyone who encounters it, from both inside and out. From its innovative Infotainment system through to the 15-inch "Galway" alloy wheels, it has countless highlights.

Used Polo beats
With a full suite of Beats speakers, taking the show on the road has never sounded better. Special edition with distinctive style and sound.

Used Polo R-Line
Exciting, sporty and stylish, the Polo R-Line has its own unique styling, providing a level of specification that adds to the excitement of driving this eye-catching car. The models offers more sporty styling with 16" Galvano Grey 'Sebring' alloy wheels, and R-Line specific front and rear bumpers.
Used Polo SEL
The luxury version with everything from 16" 'Las Minas' alloy wheels on the outside to leather steering wheel, and touch-screen navigation on the inside. The SEL is built for comfort, packed full of convenient features.

Used Polo GTI
The Polo GTI continues this tradition with a truly striking exterior and dynamic appeal. The model returns with 17" 'Parker' alloy wheels, sports suspension lowered by approx. 15mm and 'Jacara' cloth seats.

Used Polo GTI Plus
Iconic GTI styling and performance for those who like a little bit more with their Polo GTI. LED headlights, tinted rear windows and Active Info Display are all included as standard.
Used Polo UNITED Edition
The Polo UNITED's dynamic design is easy to fall in love with and complemented perfectly by attractive 15 inch Dublin alloy wheels as standard.