(2014-2018)
If you're the kind of person who thrives on excitement and challenge, who keeps moving forward and never looks back, who likes things to happen quicky without hanging around, the Scirocco is most definitely the car for you.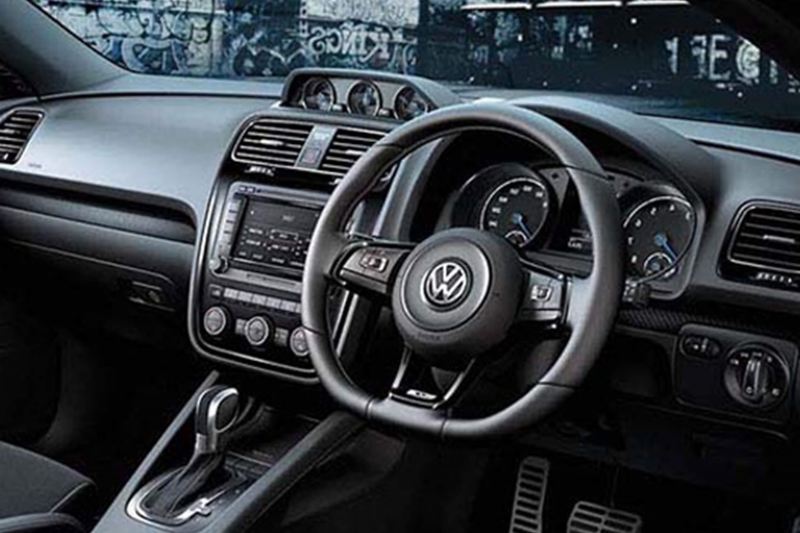 Interior
Sports Dials
A stylish three-dial instrument panel, mounted above the centre console, provides optimum display of oil temperature, turbocharger boost and multifunctional stopwatch to measure journey times.
Technology
Parking Sensors
This ingenious system will detect objects located both behind and in front of your car, as well as making parking in the smallest spaces much easier.
More exciting, more dynamic and more refined than ever before, this is a coupé that's just waiting to be driven. So, what are you waiting for?
Used Scirocco GT
The Scirocco GT, impressive both inside and out. Sporty 18 inch 'Interlagos' alloy wheels set the scene, with rear tinted glass from the B pillar backwards approximately 65% tinted, front fog lights and front and rear parking sensors completing the exterior look.

Used Scirocco R-Line
Sporty, fun and refined, the Scirocco R-Line has its own unique styling inside and out, providing a level of specification that is fitting for a car of that stature, adding to the excitement of driving this eye-catching car.

Used Black Edition Models
Distinctive, exclusive and edgy, the Scirocco Black Edition models certainly stand out from the crowd. The accentuated long roofline, darkened rear mirrors and alloys finished in black, provide a striking contrast to your chosen exterior colour.
Used Scirocco GTS
The Scirocco GTS is certain to attract the attention of admiring eyes wherever it goes. Its unique looks on the road prowess arent just empty promises.

Used Scirocco R
Everything about the Scirocco R is streamlined and sleek, from its aerodynamic styling to its unique 'R' lowered sports suspension, while the eye-catching exterior style pack and unique interior hint at the experience to come.