The future is electric. The e‑Golf takes a major step forward to a future of sustainable motoring.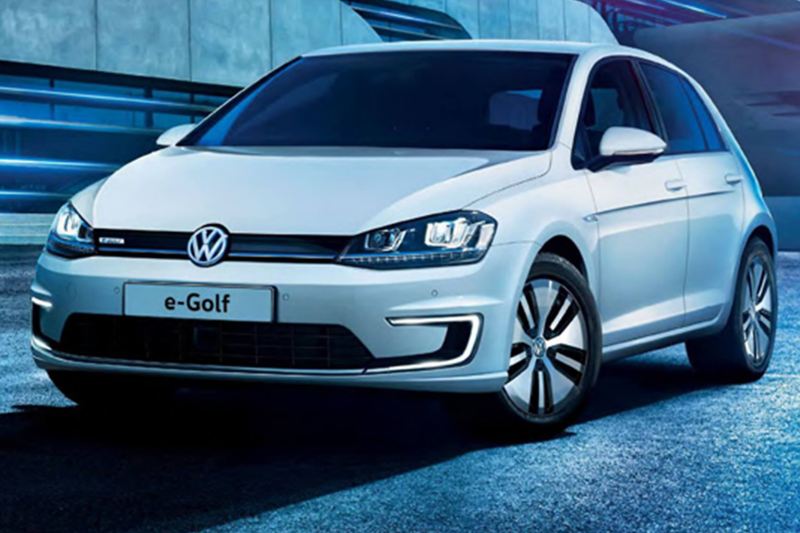 Exterior

Combined charging system
The e‑Golf comes with two different charging cables: one to charge from domestic mains and the other to charge from a wall box. You can also charge an e‑Golf in 30 minutes using a public rapid charger, thanks to the CCS (Combined Charging System)
Interior
Leather trim
The e‑Golf not only looks good, but feels good, thanks to a leather trimmed multifunctional steering wheel, gear knob and gear lever gaiter, all finished with contrast blue stitching.
Lithium-ion batteries, of the type used in most electric vehicles (including Volkswagen electric vehicles) have a restricted lifespan. Battery capacity will reduce over time, with use and charging. Reduction in battery capacity will affect the performance of the vehicle, including the range achievable, and may impact resale value. New car performance figures (including battery capacity and range) may be provided for the purposes of comparison between vehicles. You should not rely on new car performance figures (including battery capacity and range), in relation to used vehicles with older batteries, as they will not reflect used vehicle performance in the real world.
New
e‑Golf
We make the future real
Especially on short journeys, like in urban areas, a purely electric powertrain is the ideal mobility solution.