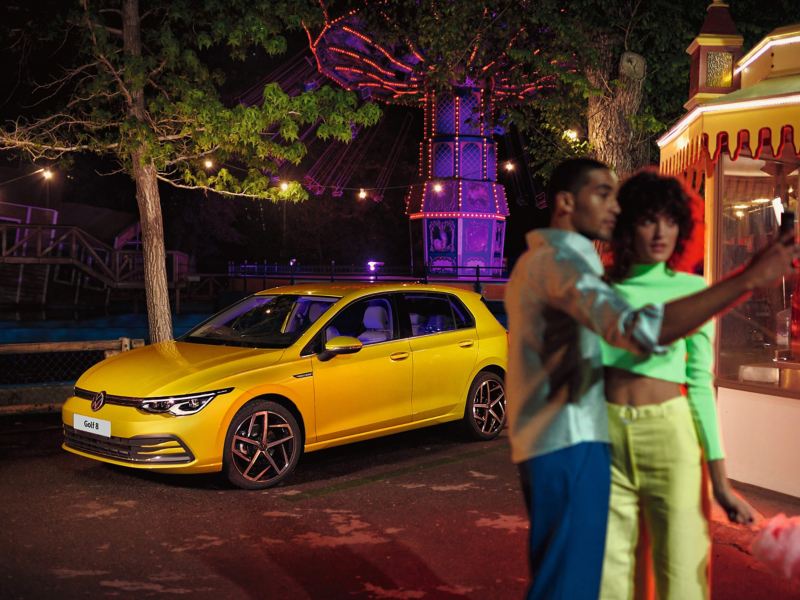 Exterior
Beautifully dynamic
The Golf 8's exterior features clean design with narrow LED headlights and a leaner front grille. The imposing bumper gives the Golf 8 more presence and sits lower to the ground, for a more responsive performance.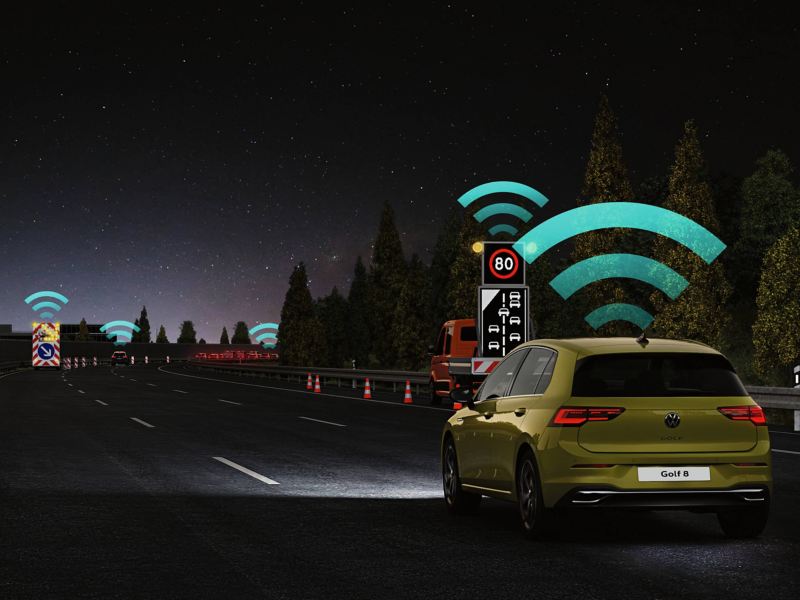 Car2X
See what's down the road

The Car2X communicates wirelessly with other Car2X enabled vehicles on the road to provide you with the most up to date traffic information. When you're stuck in heavy traffic, it uses the information it receives to detect when the end of the jam is coming up and readies the car's Adaptive Cruise Control.
As our cars become more digitally connected and we move to a more digital future, we're no longer producing the traditional brochure and price list. The documents below don't apply to our current models and are for information purposes only.
More stylish, more advanced and more elegant, but still unmistakably a Golf.
Used Golf 8 Life
The stylish Golf Life looks great inside and out and with the latest navigation and connectivity technology you are always in control.
Used Golf 8 ACTIVE
With its self-confident design and various ACTIVE extras, the Golf "ACTIVE" is up to almost any challenge.

Used Golf 8 Style
For the ultimate in style, luxury and refinement choose the new Golf Style with cool features such as 30 colour ambient lighting and Ergo Active front seat with massage function.
Used Golf 8 GTE
More powerful. More digital. More efficient. With its plug-in hybrid technology, the Golf GTE combines a powerful petrol engine and all the advantages of pioneering electric mobility. This efficiency makes driving twice as fun.
Used Golf 8 GTD
The high performance and high-tech diesel sports car for the digital age.
Used Golf 8 R-Line
The R-Line offers more sporty styling with 17" 'Valencia' Grey metallic alloy wheels, front sports seats and R-Line specific front & rear bumpers.
Used Golf 8 R
Inspired by motorsport, this phenomenal car delivers all the dynamic handling, exhilaration and excitement you could ask for.
Used Golf 8 GTI
The iconic GTI is now better than ever, with sporty features, leather steering wheel and red 'Jacara' cloth seats. A sports car for the digital age.
Used Golf 8 GTI Clubsport
The new Golf GTI Clubsport will draw a reaction from GTI enthusiasts before it even leaves the car park.
Used Golf 8 GTI Clubsport 45
To celebrate 45 years of the iconic Golf GTI, the Clubsport 45 is the sixth anniversary model since the first in 1996. This limited edition model is adorned with unique '45' branding and subtle styling notes that pay homage to previous generation GTIs.