Always heading in the right direction: route planning for

electric

cars

A successful holiday trip begins with good planning. People who travel longer distances in their electric cars, in particular, need to plan their routes and possible charging stops well in advance. There are various online route planners and a host of apps for this, some of which also provide direct access to the charging station and enable payment. (Image: Adobe Stock)
A successful holiday trip begins with good planning. People who travel longer distances in their electric cars, in particular, need to plan their routes and possible charging stops well in advance. There are various online route planners and a host of apps for this, some of which also provide direct access to the charging station and enable payment. (Image: Adobe Stock)
Find out more about route planning for

electric

cars here:

Plan first, then drive – even if the network at public charging stations is becoming denser.

More planning is needed when travelling abroad.

Many route planners and fuel station finders are available as apps.

The

Volkswagen

We Connect ID. app helps you plan routes with the ID. models.
Planning is sensible for longer journeys

If you are going on holiday, you usually have a rough idea of the route that you will take to your destination, and then rely on your navigation system or smartphone app. The same is true when heading off on holiday with an electric car. Here are a few things you need to consider when it comes to travelling using an electric car:
More so than with a combustion engine vehicle, the

range

of an

electric

car depends very much on how fast you drive, the energy consumers switched on, and the outside temperature.

You need to factor in that

charging stations

might already be in use and that you may have to find an alternative charging option.

You can use the time spent charging the battery for a quick snack or a rest break.

Fast charging stations are not always available and AC charging stations have lower power.

There are several types of connectors and payment systems.
There are now many websites and apps to help electric car drivers plan their routes. Among other things, they provide information about the locations of charging stations. These mobile apps are most helpful if you find out what your car needs before your journey. This is the only way to plan the frequency and duration of charging stops.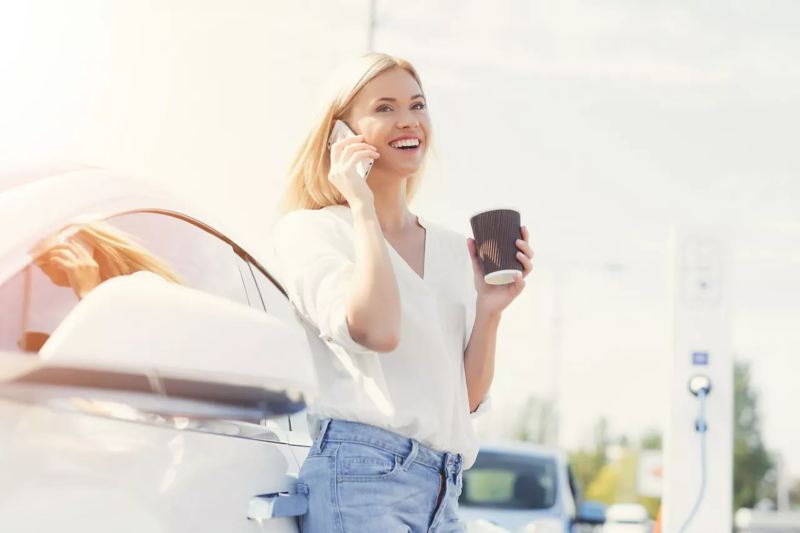 Online route planning

There are various online options for drivers of electric cars to find the right charging station in Europe. Many manufacturers offer a route planner that enables you to set additional filters relevant for electric cars, for finding charging stations for direct current or certain types of plug, for example.
Volkswagen

has its own online

electric

car route planner. A host of different filtering

options

(such as charging capacity) let you individually plan your route and factor in charging points for your

ID. model

either as a destination or stop-off point. So, you can now plan journeys en route along the public charging network taking into

account

individual settings, such as battery charge. Additional information, such as address, provider etc., is provided for every charging station, including the real-time availability status for each connector and information on the authentication

options

.
Route planning by app

The We Connect ID. app, the digital companion for the ID. models, assists with route planning. Among other things, this free app can display the predicted remaining range and current charge, even outside your electric car.
Of course, other fuel station finders and route planners are also available as apps. They enable users to adapt their route, react flexibly and report charging stations partially in use. Some even allow you to say which charging card you have and then indicate which charging station is the best one.
What is crucial is that smart digital route planners offer certain features:
They need to display charging stations for your car make and model (that is, with the appropriate cable/connector).

They need to display the charging capacity of the station and enable fast-charging stations to be prioritised.

They need to know or use the payment method you want.
There are now various options for planning your holiday trip or other long-distance journeys in your electric car. The charging network is becoming denser and, especially when travelling with children, you can make a stop in good time and combine the charging times of your chosen provider with necessary rest breaks.
Are you planning your next holiday trip in an electric vehicle? Then see the benefits of driving electric for yourself on a test drive with a Volkswagen dealer in your area and experience the ranges designed for everyday use  now available with models like the ID.3, ID.4 or ID.5.