Charging

an

electric

car – with smart solutions and intelligent charging cables

Smart charging solutions for electric cars are becoming increasingly relevant. Read here what efficient electric car charging can be like, and how intelligent charging cables help achieve this.
Smart charging solutions for electric cars are becoming increasingly relevant. Read here what efficient electric car charging can be like, and how intelligent charging cables help achieve this.
Find out more about smart charging cables for

electric

cars here:

In future, there could be intelligent, flexible charging cables with an integrated electricity meter, or one connector for all types of charging.

Mobile charging stations and flexible ultra-fast charging stations allow intelligent charging along the route.
People who want to buy an electric car, or already own one, have to consider the possibilities of smart charging sooner or later – whether they charge at a public charging station or their own wallbox. Then, they may ask the following questions: What ideas and strategies are there for making electric car charging even smarter in future? How important are intelligent charging cables? Will future charging cables be able to tell how much electricity the electric car needs? What smart solutions are there for wallboxes and for charging EVs when out and about? Here are the first answers to these questions.
Intelligent charging cables in 

development



The development of smart charging solutions has picked up speed in recent years. There are new ideas about how EV charging could become even smarter in future – with the aid of intelligent charging cables, among other things. So far, you need different cables with a special connector for wallboxes, public charging points, or household sockets.
Public charging stations generally use Mode 3 charging cables with two Type 2 plugs for European electric cars. On the other hand, your home socket works with a Mode 2 charging cable. And it's different again for wallboxes.. In future, the solution could lie in more flexible charging cables – i.e. one cable with one connector that works with all types of charging. And, in the years ahead, could there perhaps be charging cables that detect how much power the electric car needs? Yes, there could! Cables with an integrated electricity meter, for instance, which register charging processes and transfer the data to a billing system via the mobile communication network, are no pipe dream.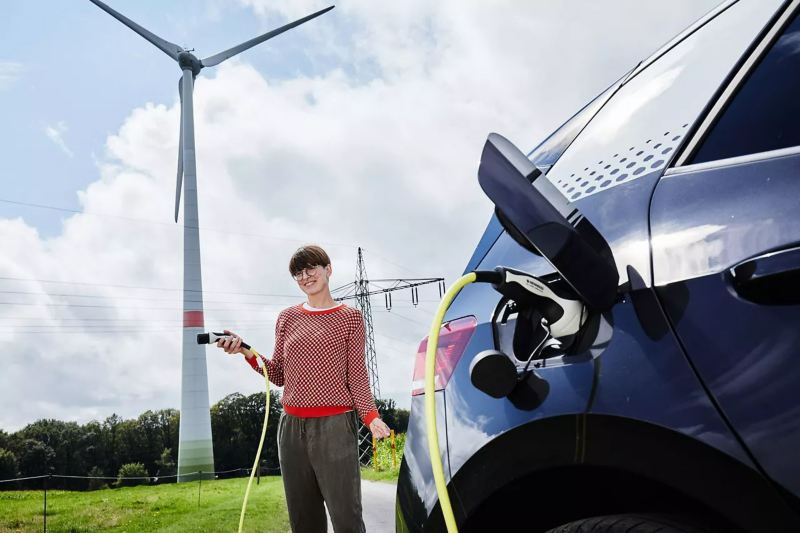 Smart charging technology and even more electricity from renewable sources: E‑mobility is becoming more and more eco-friendly.
Intelligent charging when on the move

These days, drivers wishing to top up their electric car on route can increasingly benefit from intelligent solutions. The expansion of a dense public network of ultra-fast charging stations could become a reality much faster than was previously thought. This is because Volkswagen and E.ON are working on a new, flexible ultra-fast charging point. These charging stations will be installed using the plug-and-play principle: set up, connect, configure online. The advantage is that two electric cars can be charged simultaneously with an output of up to 150 kilowatts, depending on their charging capacity. In addition, we now also have mobile charging stations where you can charge your electric car regardless of the available charging infrastructure – at a hotel, at work, or travelling on holiday.
Experts are working continuously to improve charging speed and make charging at home even more intelligent and convenient. New on the scene are the Audi e-tron models, which can charge twice as quickly. The new connect charging system is designed for up to 22 kW and can be installed in your garage. As it was designed to be connected to power sockets, it is also suitable for mobile use.
Intelligent charging – why it matters

First, some background information: smart, flexible charging is essential if you want to monitor your own charging behaviour, make it as efficient as possible, and minimise the risk of grid bottlenecks. If everyone charges their electric car at night, for example, this could put more strain on the grid. Therefore, it's vital that electric cars and charging stations can react to special situations. This could be achieved by new, intelligent solutions that automatically increase charging capacity when the grid has sufficient reserves, or reduce charging capacity when the load on the grid increases. To sum up, smart charging solutions will allow everyone to charge their electric car at any time, in any place, as efficiently as possible.