Charging

times you can rely on

An important question in the everyday life of electric mobility is: How long does it take to charge an electric car? And are there any factors that can affect the charging time?
An important question in the everyday life of electric mobility is: How long does it take to charge an electric car? And are there any factors that can affect the charging time?
Find out more about charging times here:

The charging time depends on several factors.

They include the energy content of the battery and the output of the charging station.

The ambient temperature also plays a role in the charging time.
How long does it take to charge an electric car? There is no universal answer to this question, as it depends on various factors. These include the battery's state of charge and capacity, i.e. how much energy 'fits' into the electric car. The charging station – or more precisely, the charging method – also plays a role. In short: whether the battery is connected to a wallbox with an output of up to 11 kW (alternating current, 3-phase), or to a DC fast charging station? What's more, the maximum charging power is achieved at an ambient temperature of 23 degrees. If it's hotter or colder, charging can take longer.
However, there is a simple formula that provides at least an approximate charging time: the energy content of the battery in kWh divided by the charging power in kW gives the approximate charging time in hours. According to this rule of thumb, a 52 kWh battery connected to an 11 kW wallbox will be 80 percent charged after about four hours (with alternating current, AC). When the vehicle reaches a charge of 80 percent, the vehicle's software gradually reduces the charging power to protect the battery and prevent it from overheating.
Wallbox and Naturstrom for the ID. models

All this means that the wallbox is the ideal solution for conveniently charging your electric car overnight. 
Charging your car via a normal household socket is also possible, but should be considered an emergency solution, as it takes a very long time. Many older power cables in a house or garage could be damaged by the continuous load. By contrast, wallboxes are specifically designed for this purpose.
As our recommended wall box supplier, Pod Point, can help you choose a charging unit and even guide you through the process of applying for a grant. You may be also eligible for the Home Grant Scheme¹ (up to £350 towards the installation of a home wall box).
Find out more about Pod Point wall boxes
1. In March 2020 the Office for Zero Emission Vehicles (OZEV) announced that the Electric Vehicle Homecharge scheme (EVHS) would continue until 2021 and that the level of grant for EVHS is to be set at £350 (previously £500). The new rate is applicable to installations on or after 1st April 2020. The Government grants are subject to full terms and conditions and eligibility may be revised or withdrawn at any time without prior notice. This information is correct as of March 2020.
Direct current for short charging times

DC fast-charging stations are available to charge your electric car on longer journeys, for instance when heading off on holiday. The charging infrastructure is continuously being expanded. The IONITY high-speed charging network, in which Volkswagen is also involved, now operates several hundred charging sites on major routes throughout Europe.
Fast charging stations supply considerably more charging power but also supply direct current. The advantage of direct current is that it essentially goes directly into the lithium-ion battery. Alternating current first needs to be converted by the electric car's onboard charger before the energy can be fed in. Our 52-kWh battery would be 80 percent charged in approximately 30 minutes at a fast-charging station with a maximum charging capacity of 110 kW.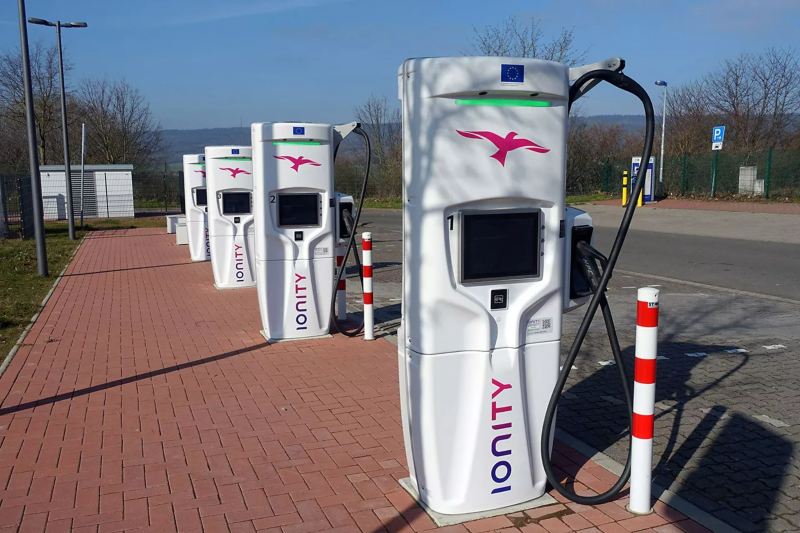 Looking ahead

The modern lithium-ion batteries used in Volkswagen ID. models provide a high level of energy and power density as well as cycle stability. But researchers and developers are already working on the next generation of batteries for electric cars. The most promising candidate for this is the solid-state battery. It has an even higher energy density and can be charged more quickly. One of the pioneers in this technology is the American company QuantumScape, in which Volkswagen has a share.
The development of charging technology is also not standing still. Inductive car charging enables electric vehicles to be supplied with energy wirelessly – even while they are driving. There are already various practical applications, but its widespread use is still very much pie-in-the-sky.
Experience

electric

mobility yourself

With their long ranges on the road and their state-of-the-art technology, Volkswagen's ID. models are ideal cars for everyday driving. Try one of our models by arranging a test drive with a Volkswagen dealership in your area.