What it costs to charge an 

electric

car

How much does it really cost to charge an electric car? We reveal all – and also tell you how to save money when charging.
How much does it really cost to charge an electric car? We reveal all – and also tell you how to save money when charging.
Find out more about the charging costs of

electric

cars here:

The cost of charging an

electric

car depends on individual consumption, battery size, and the price of electricity, among other things.

Electric

car

drivers

can save money with

special

car electricity, off-peak economy and, green tariffs.

If you have your own socket, you can often charge more cheaply than at public charging stations.

With your own wallbox, it takes just a little over six hours to charge an

electric

car with a 58-kWh battery with a charging capacity of 11 kW.

Users of the

Volkswagen

We Charge

service

can access fast-charging stations all over Europe.
More and more people are interested in e mobility, and electric cars are right on-trend. The reasons for this are many and diverse: environmental considerations matter to many, electric cars are extremely quiet, and, quite simply, driving one is fun. But the issue of cost is also a factor. Although it may still cost more to purchase an electric car than one with an internal combustion engine, depending on the model, buying an electric vehicle can definitely be a worthwhile investment. After all, electric cars clearly win the day when it comes to running costs. Ask The Comparator tool just how much you could be saving. What's more, they mostly score higher than petrol or diesel vehicles on energy costs, too – especially given the rising price of fossil fuels. The benefits are greater if you spend a lot of time behind the wheel.
Consumption and charging habits influence the cost

But how much does one charge of electricity for an electric car really cost? There's no one-size-fits-all answer to this question; rather, the cost of charging depends on various factors. Do you charge up your vehicle at your home socket or wallbox? What does your provider charge for electricity? Do you have the option of charging your car at a private charging station, say at work? Or do you regularly use public charging stations because you travel a lot and often drive long distances? What is your average speed? All these factors play a part in the question of cost, and so does your electric car's consumption.
If you charge your electric car at home – regardless of whether it's a normal power socket or your own charging station – you'll currently pay around 34 pence per kilowatt hour (Based on 1 October 2022 price cap)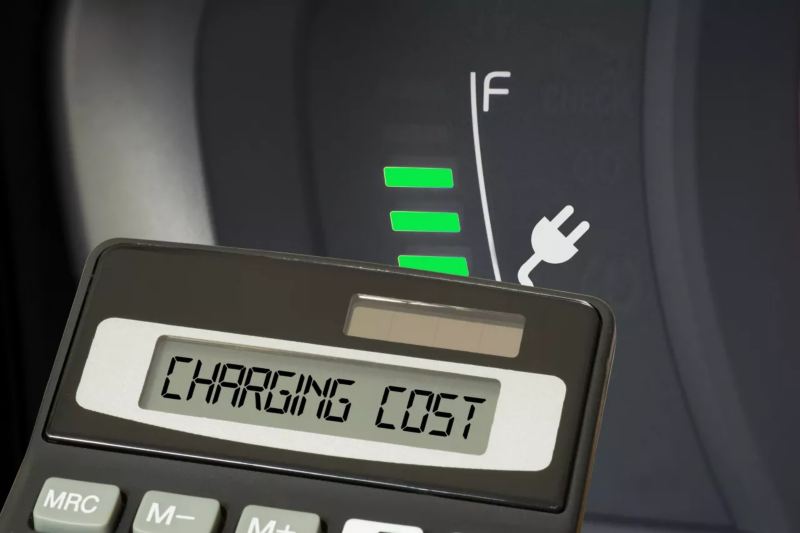 Special

electricity tariffs for 

electric

car

drivers
You can save even more with a favourable tariff. These days, you can even find special car and green electricity tariffs. Off-peak electricity tariffs, with cheaper electricity at night than by day, are also recommended. Since electric cars are often connected to the charging station in the evening and charged overnight, this really fits the bill. Volkswagen and Octopus Energy offer the equivalent of up to 4,000 free miles of 100% renewable electric fuel when you sign up to Octopus Go Green for electric car owners. Terms and conditions apply.
Investing in solar panels could make sense for home-owners. Then, the electric car is charged with solar electricity from your own roof. In principle, charging is then free, if the panels supply enough electricity. There is, of course, the expense of purchasing, installing and maintaining the system, and possibly buying a battery.
By the way, if what matters to you is the shortest possible charging time, think about installing a wallbox. We've made charging at home cheaper and greener by teaming up with Ohme, who are on a mission to speed up the global transition to clean energy by providing an easy-to-use smart charging system. 
Charging

at public charging stations

Of course, electric car drivers can also charge the battery of their electric car at public charging stations along the way. The network of electric 'filling stations' is constantly expanding. Various websites, apps or your electric car's satnav will tell you the location of charging stations. It's important to remember that you need a charging cable with the right plug when on the road. In Europe, the three-phase Type 2 plug is generally used. However, it's mostly cheaper to charge at your own socket than at a public charging point. The cost always depends on the provider.
You can pay to charge at a public charging station in various ways. A range of different payment models are available to choose from. Besides billing based on a contract, whereby you simply hold your personal charge card over a charging station panel or pay by app, every charging point must also offer you at least one of the following three options: digital payment, card payment or cash payment. Often, you can even compare the electricity costs of the different payment models at the charging station. This gives users a certain flexibility and is particularly helpful to drivers making a spontaneous stop to charge. The right payment model for you depends, above all, on your vehicle usage and where you live. For people who drive a lot, a tariff with a monthly basic fee and reduced kWh price is recommended in most cases. Flat rates could also make sense.
However, there are also quite a few electric car charging points that you can use for free. Supermarkets and the like frequently offer special electric car parking spaces, where you can charge your car while you shop – and it's often completely free.
Buy electricity simply anywhere with We Charge

By the way, We Charge is a very relaxed way to charge your electric car – whether at home using the connected wallbox or on the road at around 250,000 public charging points throughout Europe. These also include IONITY fast-charging stations on major motorways, which you can also use with We Charge. Simply find the right tariff for you, set off – and arrive in a relaxed frame of mind!