If you want to know more about our electric range, wonder what owning an electric car is like, or run a business and are curious to find out if your fleet can run on electric, you've come to the right place. Find answers to some of the most common questions we're asked about electric cars.
Whether you own a private car or operate a fleet, now could be the right time to switch to a hybrid or electric ultra-low emissions vehicle from a traditional diesel or petrol car. Visit our e-mobility tools to see how going electric could benefit you.
Like most lithium-ion batteries we use every day, such as in our smartphones, the capacity of batteries in electric vehicles will reduce over time through use and charging. This is important to keep in mind when comparing new and used electric vehicles on our website, as the capacity of a used battery will be lower than the capacity of a new battery.
The reduction of battery capacity through use, charging and time is called 'degradation'.  For battery electric cars, degradation is affected by many variables such as charging speed, driving style, charging volume, temperature etc. As a battery ages the capacity will reduce, which means that the battery may need to be charged more frequently and the range achievable in real life may decrease.
You should not rely on new car performance figures (including battery capacity and range) in relation to used vehicles with older batteries, as they will not reflect used vehicle performance in the real world. 
All Volkswagen Approved Used BEV's will receive a multipoint check and a battery health certificate, this will display the current battery health status. The Volkswagen Warranty covers battery degradation to 70% over a period of 8 years or 100,000 miles.
The overall costs for an electric vehicle are likely to be similar to that of a comparable combustion engine vehicle – possibly lower. That's thanks to attractive pricing and leasing instalments, expected government funding, good residual values and lower maintenance costs. On top of that, you get to feel like you're making an important contribution to the environment, which is not only good for you but, above all, generations to come.
Ask our usefu tool to calculate the total cost of owning any Volkswagen electric vehicle. .

According to the latest WLTP figures, up to 340 miles (550 km), and performance is improving all the time. It's commonly thought that electric cars can't travel that far, but it's a misconception that is fast disappearing with the latest generation of electric vehicles. Like petrol and diesel cars, range is influenced by a variety of factors, including driving conditions, weather, load, tyres and aerodynamics. 
Probably not as long as you think, but a lot depends on the type of charging station you use. At home with a 7 kW wallbox, you can charge your electric car from empty to full overnight. With a 50kW rapid charger, you can add up to 100 miles of range in around 35 minutes.
Like a petrol or diesel car, your electric car will warn you when it's running low. It will also switch automatically to energy-saving mode. The integrated Car Net navigation system In your electric Volkswagen will guide you to the nearest convenient charging station, or alternatively there's a host of great charging apps available, including Zap-Map, PodPoint, Ecotricity and Chargemaster.
Should something go wrong, as a driver of an electric vehicle you can use our Volkswagen breakdown service on by calling 0800 VWSERVICE or 0800 897 378 423.
The network of charging stations in the UK is growing extremely rapidly right now. There are already more electric charging points than there are fuel stations and the number is increasing all the time.
You're likely to be pleasantly surprised by how long the batteries last, and performance is improving all the time. The key factor is how often the battery is charged and discharged.
At Volkswagen, we guarantee that your battery will not drop below a minimum of 70% of the useable capacity value after eight years or 100,000 miles/160,000 km – whichever comes first.
On the contrary, the cost of ownership for an electric car is typically lower than for a petrol or diesel car.  Electric technology is less maintenance-intensive, which can mean lower servicing costs.
The purchase price for an electric car is currently somewhat higher than for a comparable petrol or diesel due to manufacturing costs associated with the battery, but there are also many purchase incentives, including tax breaks and grants for drivers converting to electric.
Volkswagen also offers a wide range of finance options to help you get behind the wheel of an Electric Vehicle including Lease&Care designed specifically for Electric Vehicles. Lease&Care is a leasing agreement with a level of essential servicing built in to give you peace of mind when moving to an EV, combining your vehicle and servicing costs into one flexible package and monthly payment.1
Charging your electric car is very safe, even in damp and rainy conditions. As long as your electric car and the charging station meet strict legal standards, no electricity will flow until a secure and fully safe contact has been established.
You can also safely take your car through a car wash and open the bonnet in the rain. And your electric car is as safe as any other when there is lightning.
The best way to answer this question is to drive one. We're pretty certain you'll find the experience anything but boring. Unlike petrol and diesel cars, electric cars have what is called 'instant torque', which means there is no lag between you pressing the accelerator and the power coming on.
In addition, the batteries in the latest generation of electric vehicle are integrated into the car floor, giving it a phenomenally low centre of gravity and optimum weight distribution. As a result, the dynamics of electric vehicles are breathtaking.
You'll never want to go back.
Actually, it's really simple. All you need is a charging cable and a connection to electricity. The quickest and simplest way to charge from home is with a wallbox. This isn't just an option for owners who can park their cars outside their homes. Wallboxes can also be installed in the garages of blocks of flats, while charging point manufacturers are developing a variety of different solutions for on-street charging.
Employers and retailers are also increasingly offering charging, so you can fill up while you work or shop.

Battery technology has come a long way since electric vehicles first hit the market, on newer electric cars you can expect a range of up to 350 miles dependent on the battery specification. The average distance travelled each day is approximately 25 miles, so the average person would be able to travel each week on one full charge. 
They are as dependable and safe as every other Volkswagen, and equipped with the most technologically advanced safety systems. If you should nevertheless experience a breakdown, simply call the VW hotline. Specialists will take care of any problem. 
Recycling of used high-voltage batteries does not damage the environment. The lithium-ion battery in e-vehicles is a valuable source of raw materials. When the battery is recycled, secondary raw materials such as lithium, cobalt, nickel and manganese can be extracted.  This helps to replace the expensive mining of primary raw materials. For the ID.3 we are committed to the entire product lifecycle being net carbon neutral. More on how we achieve this can been found here.
All of our BEVs and PHEVs have an exterior e-sound as standard which emits an external electronic sound to pedestrians up to 18 miles an hour at a decibel level, the same amount of a petrol or diesel engine. 
It's not mandatory, but we recommend all owners of a plug-in car get a home wallbox, in the same way that one wouldn't rely on workplace or public charging for a smartphone or laptop. Our recommended wallbox provider is Elli or PodPoint.
You can use one of many public charging points - a list of available charging stations is available here or using the website and app Zap-Map
The Volkswagen app allows you to turn on the air conditioning remotely (provided the car is plugged in) to warm up or cool down the car before you get in. So if it looks chilly outside, you can warm the car up from the comfort of your own home.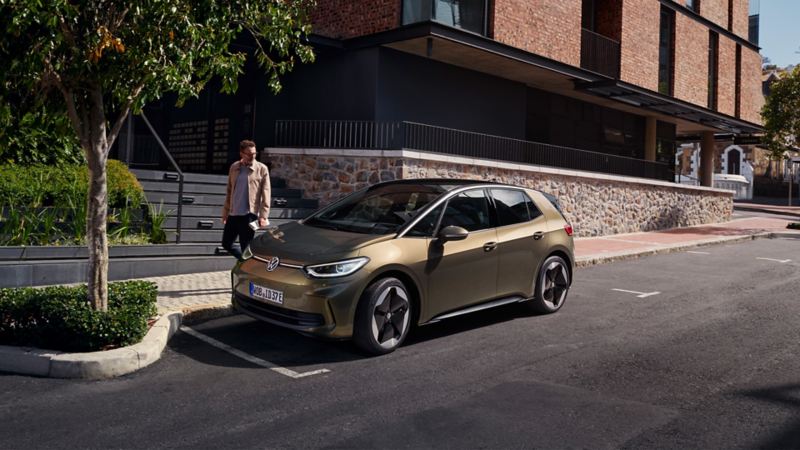 If you want to discover more about our electric range or are unsure whether an electric car would be right for you, click below.