Green electricity:
Working together towards carbon-neutral.

Volkswagen is committed to the Paris Climate Agreement, which is why we're working to make the ID. Family arrive to our customers completely carbon-neutral. To make sure the ID. Family remains carbon-neutral once it's been delivered, it needs to be charged using green electricity, therefore we are promoting investment in the generation of green electricity.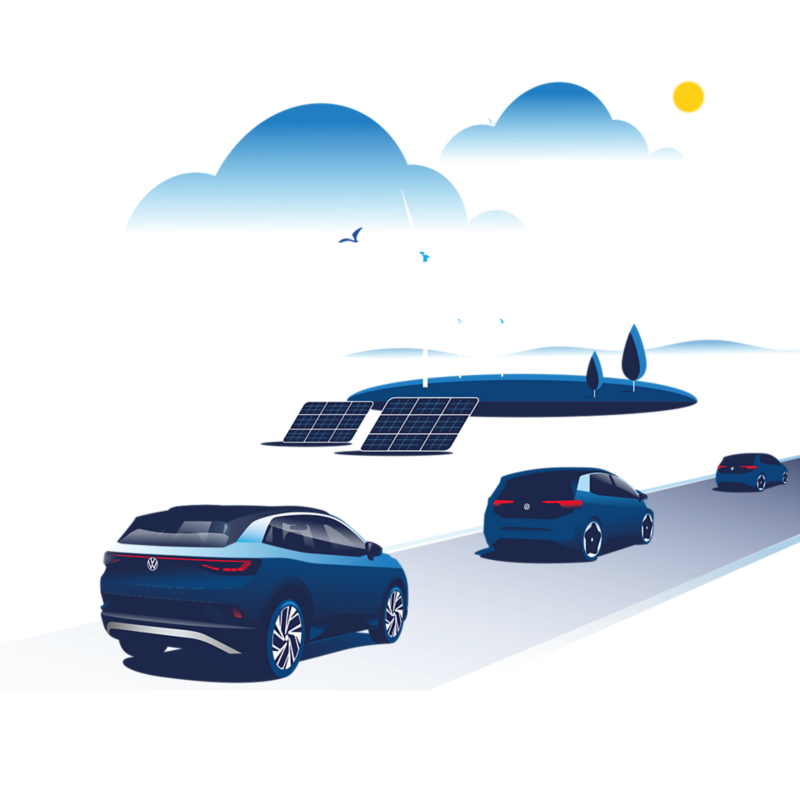 The road to carbon-neutral

driving



Electric driving benefits the environment by significantly reducing the number of carbon emissions that come from traffic. But our electric cars go further than just being more efficient on the road, we work to ensure that everything from the production line to the way we recycle our materials is carbon neutral. It's also why we are promoting the use of green electricity for recharging.
Sustainability starts at charging

The greener the electricity we use to charge our electric cars, the better the impact on the environment. For example, an ID.3 powered entirely by green electricity has a reduced carbon footprint compared to a traditional combustion engine after 35,000 miles, however, using the non-green European electricity mix it's only reached after 78,000 miles.
What you can do to help protect the climate

Our approach:
1. We take responsibility for ensuring the supply of green electricity. There are many ways you can ensure the electricity you use to charge your car, including the TÜV Nord-certified Volkswagen Naturstorm which uses green electricity from our subsidiary Elli. Many public charging stations, including the high-power charging stations of our premium partner IONITY, use purely green electricity.

What we are doing to protect the climate
2. On the road green electricity is not always available. We estimate that around 60% of charging needs meet the criteria of renewable power and by 2025 the ID. Family and further electric models will require an extra 7 terawatt-hours (TWh) of green electricity to meet charging demands. To help negate the environmental demands this will pose, we are working closely with the energy industry to generate additional green electricity.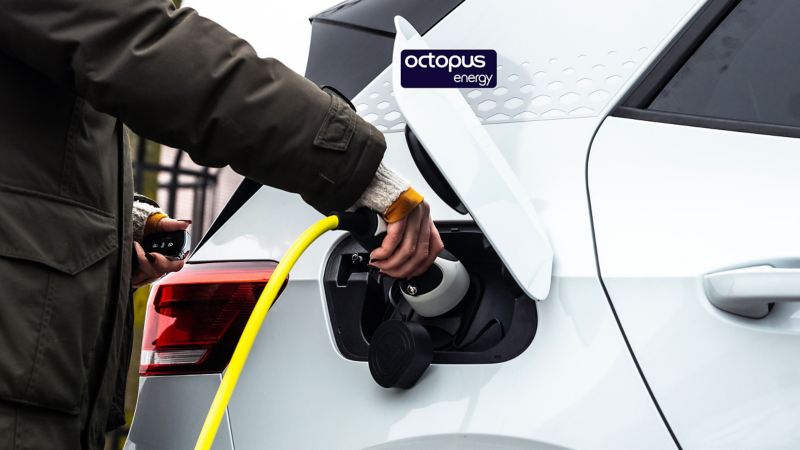 We are partnering with Octopus Energy so you can enjoy affordable, zero-emission charging at home. Volkswagen Electric Vehicle customers who switch a dual fuel home energy supply or have an existing dual fuel supply with Octopus Energy will be eligible for a £90 credit to their energy bill worth up to 8,000 miles of free driving. Full terms and conditions apply.
Lithium-ion batteries, of the type used in most electric vehicles (including Volkswagen electric vehicles) have a restricted lifespan. Battery capacity will reduce over time, with use and charging. Reduction in battery capacity will affect the performance of the vehicle, including the range achievable, and may impact resale value. New car performance figures (including battery capacity and range) may be provided for the purposes of comparison between vehicles. You should not rely on new car performance figures (including battery capacity and range), in relation to used vehicles with older batteries, as they will not reflect used vehicle performance in the real world. For further information on battery degradation/preservation please visit: www.volkswagen.co.uk/en/electric-and-hybrid/should-you-go-electric/servicing/battery-maintenance-and-waranty.html