Climate-conscious travelling: on the road with an

electric

camper

How about a holiday in an electric campervan or motorhome? This will be possible in future! Find out how, even today, you can enjoy camping in an electric vehicle, and how the ID. Buzz and ID. California are leading the way.
How about a holiday in an electric campervan or motorhome? This will be possible in future! Find out how, even today, you can enjoy camping in an electric vehicle, and how the ID. Buzz and ID. California are leading the way.
Find out more about

electric

 campervans here:

In future, travelling in an all-

electric

camper van should be no problem. Even today, camping in an EV camper conversion is certainly feasible.

The

ID. Buzz

will be launched onto the market in 2022 and will provide enough space for an entire family's camping equipment.

And the all-

electric

ID. California, which will hit production lines in Hanover in 2025, will

offer

campers even more.
The question on the lips of all camping enthusiasts with an electric vehicle is this: Are today's campsites ready for e‑mobility? Are there pitches with charging facilities, for charging electric campervans and motorhomes? Where are they? Can I really travel in a motorhome in an eco-friendly way, and be sure I will have sufficient range? The answers are here.
More eco-friendly motorhome travel

An electric car is also an option for your electric camping trip: either put your tent in the boot or hook up a caravan. Of course, your vehicle must be equipped with a trailer hitch. An optional tow hitch is available for the Volkswagen ID.4, with a towing capacity of up to 750 kg (unbraked) or 1,000 kg (braked)2.
You will also be able to go on holiday in an all-electric camper or motorhome in future, although a bit of patience is needed. But one thing is certain: it's only a matter of time until EVs, electric campers and battery-powered motorhomes will be at home on campsites. After all, travelling with an electric car or motorhome is an environmentally-friendly alternative to flying and long-distance journeys in combustion engine vehicles – and it's fun, too!
Electric

camper: the

ID. Buzz

 goes into series production in 2022, the ID. California is planned for 2025

Drive to the seaside together, enjoy great views through the panoramic sunroof, and stay overnight wherever you choose to: what you do today with the Volkswagen California, say, will also be possible with electric campers in future. The planned market launch of the standard version of the ID. Buzz 5 metre-long campervan is planned for 2022. The battery-powered successor to the legendary VW 'Bulli' campervan, which has given people the feeling of freedom for seven decades now takes camping into the age of electric mobility. And this classic car's many fans will be able to rediscover the world and its adventures in the electric 'Bulli' campervan.
The cargo and passenger version will then be followed by the ID. California in 2025. This electric camper is based on the ID. Buzz will combine the continuing trend towards mobile leisure with sustainable, carbon-neutral mobility.
The moment when the first VW camper with an electric powertrain first hit the road in the 1970s – with a range of just 70 kilometres and a hefty battery weight – heralded a revolution. And now, electric vehicles are leading the field with numerous advantages that make travelling easier, greener and more comfortable. What's more, you can take a look at the benefits of the camper of tomorrow right now.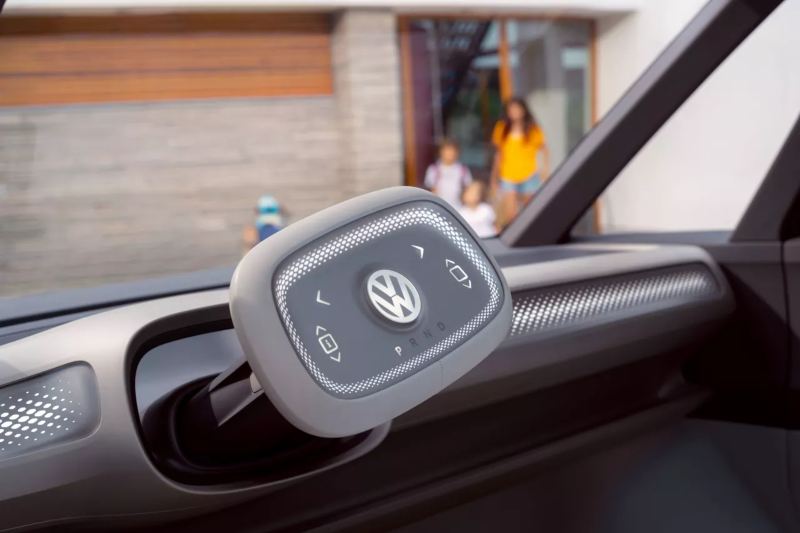 ID. Buzz

as a flexible campervan

All eyes are on Volkswagen's new electric minivan, by virtue of its futuristic design and equipment. The variable space concept of the ID. Buzz offers ample room and state-of-the-art comfort, to make your driving experience as pleasant and safe as possible on all your travels. The concept version of this spacious van even has a touchpad in the steering wheel in place of buttons and knobs. A light touch is all that's needed to operate the van and set off. The AR head-up display is also an important aid to navigation, especially if you want to make the most of your range and discover more remote spots on occasion! Using augmented reality technology, key driving data is projected into your field of vision, with arrows showing the way to steer. The planned electric range of the ID. Buzz is up to 600 km. Battery charging will be inductive  or via a charging station. As with all other electric and combustion engine cars, you should spend a bit of time planning, and take a look at your route and charging facilities with the route planner before setting off on your holiday in the ID. Buzz.
Planned sensors will also monitor the surroundings inside and outside the vehicle. For example, if the electric campervan detects cyclists or pedestrians at the edge of the road, it would let you know with its 'LED eyes' and light signals. The electric van can take on various roles with all these features combined: a family -friendly space, a pioneer and modern camper, but also a reliable addition to your everyday life.
On the road with the

electric

 camper

Refuelling? Oil changes? You can forget all that with electric vans, motorhomes and other EVs. Instead, what matters is the range, battery capacity[A1]  and charging facilities. The necessary infrastructure is currently undergoing massive expansion. Even today, the Volkswagen We Charge4 service offers access to around 270,000 charging stations throughout Europe, and even to IONITY fast-chargers on European motorways, using just a charging card. So now nothing can stop you from enjoying a relaxing holiday in an electric camper!