Used

electric

cars: what you need to know

Before buying a used electric car, take a really good, close look at it. First and foremost, look at the battery. But not just the battery.
Before buying a used electric car, take a really good, close look at it. First and foremost, look at the battery. But not just the battery.
Electric cars don't produce CO2 emissions when driving, are quieter than petrol and diesel cars, simpler to maintain and service and drive for free in city-centre low-emission zones: many people are keen to switch to an electric car sooner rather than later. But that complicates matters. The demand for electric cars is rising so rapidly that production is struggling to keep pace with orders. Waiting times are inevitable. However, a used electric car is an alternative to avoid waiting times.
However, you need to consider certain points when looking to buy a used electric car.
Pay attention to the following:
the battery and battery life,

the brake and tyre condition,

prepare yourself well for the

test drive

.
Buying used

electric

cars: focus on the battery

You need to pay particular attention to the battery. The beating heart of an electric car largely determines its value, due to its high production costs. As a rule of thumb, the quality of lithium-ion batteries in a newer model is usually better than in an older one. Having the battery tested in a workshop will give you an idea of the actual condition of the battery. It will confirm the "State of Health", that is the battery's usable capacity. And be sure to get a copy of the test reports, which are generated after checks and services. If in doubt, consult an expert.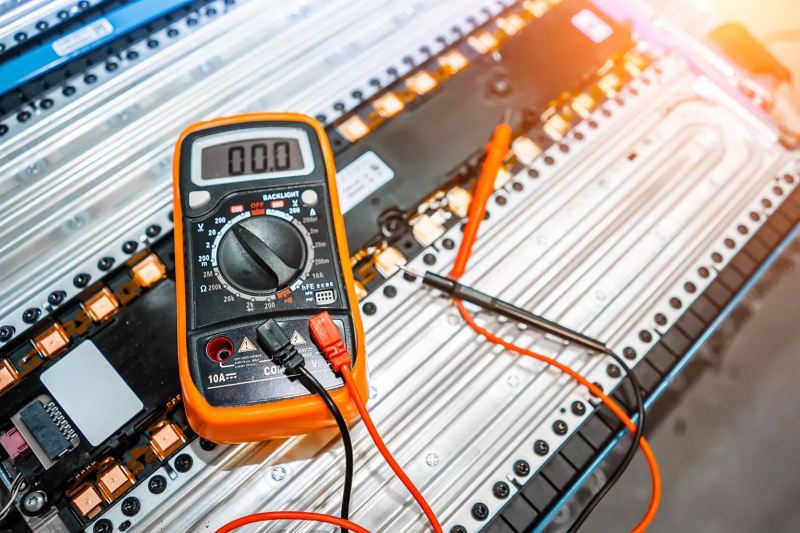 You cannot tell from the age of the car alone how the car battery has aged. Charging and discharging affects its performance , as do other factors, such as heat or cold. Newer models feature a special battery management system to ensure that cars are charged as gently as possible. Regenerative braking is another issue. An electric car benefits from being able to convert braking energy into electric current. However, the energy flow is considerable and so places the battery under a lot of strain.
Partial restoration of battery capacity in

electric

cars

Reduced performance does not mean that the battery is faulty. Even after years of use, it often retains 70% of its capacity – Volkswagen even guarantees this2.  To a certain extent, its performance can be restored. In a process known as remanufacturing, minor cell defects are repaired – for a fraction of what it would cost to replace the whole battery.
You can't go wrong with a manufacturer's guarantee. It will come into effect within a certain time or up to a defined mileage, as soon as the usable battery capacity drops below a certain level. The manufacturer will then replace the electric car battery free of charge.
Very high mileage may indicate an expired warranty or reduced battery capacity. Conversely, exceptionally low mileage is not necessarily good news either. It could indicate that the car has not been driven for some time and that the battery has been fully discharged. A deep discharge, as this is known, could damage the battery. Incidentally, allowing your car to stand with a fully charged battery for a long time can also adversely affect its service life.
Be sure to check: charging 

accessories

and cables

Apart from the battery, you also need to check that the charging accessories are working properly. Why? So you don't need to buy new accessories. Moreover, a faulty cable could result in the car failing its general inspection (MOT). Ideally, the car's MOT should not be very long ago.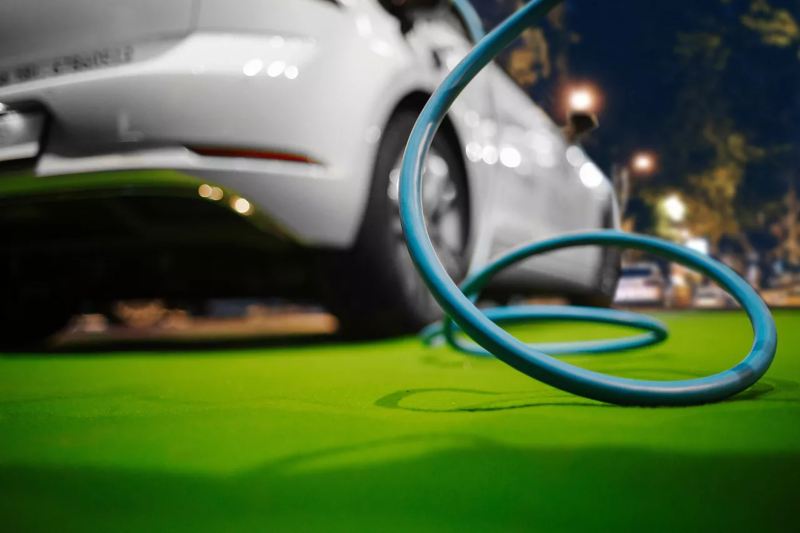 Check: cables and brakes

If possible, the high-voltage cables in the car also merit close inspection. Look don't touch! Never touch the bright orange cables! Their bright signal colour should be warning enough. However, this means nothing to small animals, such as martens, as revealed by bite marks on cables. Tooth marks and any other cracks are usually visible to the naked eye.
Be sure to ask about the condition of the brakes. They tend to be used less in an electric car than in a petrol or diesel car because of regenerative braking. Often, lifting your foot off the accelerator in an electric car is enough to regulate your speed. Although brake discs and pads wear out less quickly, they are also more susceptible to rust due to their infrequent use. This, in turn, can lead to reduced braking performance.
What is the condition of the tyres?

The tyres of electric cars wear out a little faster due to the higher torque when driving. And higher forces are exerted on the shock absorbers and running gear because of the heavier weight of the vehicle.
However, overall there are fewer wear parts in an electric car than in an internal combustion engine vehicle, as there is no clutch to rattle, no gearbox to screech, and no exhaust pipe to fall off. And there is no need to change the oil with electric motors, which makes it less expensive to maintain an electric car.
If you're satisfied with the condition of the used electric car up to this point, then it's time for the essential test drive. A short trip might be enough to give you an initial impression. But it's worth having a thorough test drive if you are serious about buying it. Someone already familiar with electric cars would be useful to take along.
A plan for the

test drive



Make sure that the battery is fully charged and the on-board computer is set to zero before you set off on a test drive in a used electric car. Note the range shown on the display and tell your dealer that you would like to make the most of it. You will gain a feel for the performance of the electric car by comparing your expected and actual driving distance.
Handy hint: Before heading off, it might be useful to consider the way you normally drive, and driving similarly during the test drive. Only by simulating everyday situations can you accurately decide whether electric cars truly meet your needs.
It is hard to rely on a common rule of thumb when buying a used electric car. Although electric cars are becoming increasingly common on the roads, there are still considerably fewer of them than combustion engine cars. The market for used electric cars is (still) relatively small – as is the experience of many potential buyers and private sellers.
We therefore strongly recommend visiting a Volkswagen dealership. Our experts will guarantee the first-class condition of the vehicle including used car warranty and other services with our Approved Used Cars quality mark. They will also explain everything you need to know about electric cars, batteries etc. with information about each model. Interested in a used e‑Golf, e-Up!, ID.3 or even an ID.4? Book a test drive now.