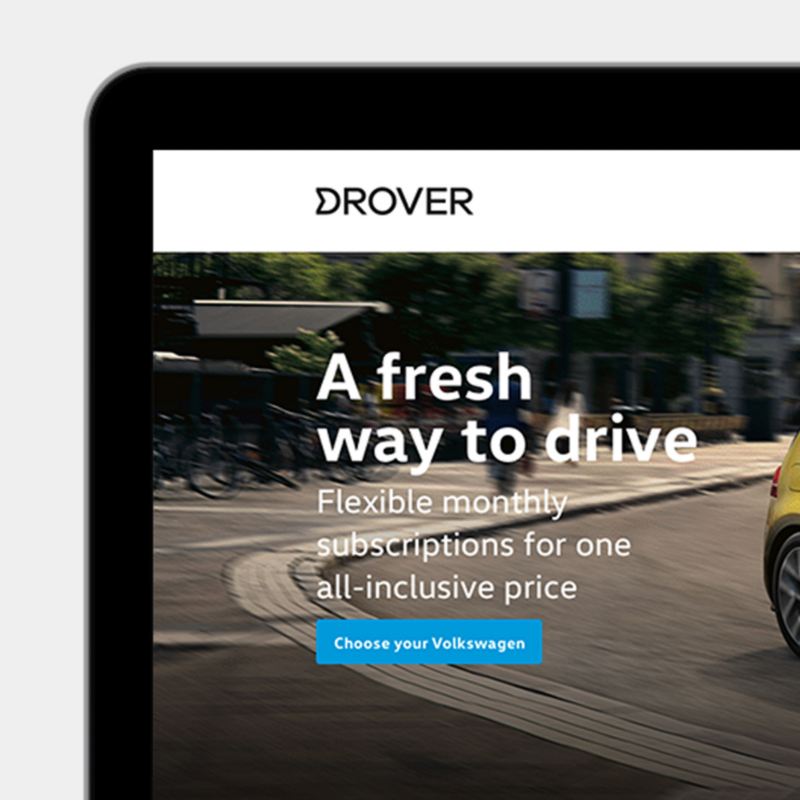 Volkswagen launches subscription pilot with Drover
Volkswagen

launches subscription pilot with Drover
Volkswagen launches subscription pilot with Drover
Volkswagen

launches subscription pilot with Drover
The first Volkswagen subscription service in the UK has been given the green light, with a pilot site powered by subscription service specialist Drover and in partnership with sister organisation, Volkswagen Financial Services.
The pilot scheme, initially with a limited number of vehicles provided by Volkswagen Financial Services, launched in February, and signposts the importance of investigating alternative ownership models at Volkswagen. Customers can pick from Volkswagen's four top-sellers – the Polo from £439 per month, the Golf from £513 per month, the Passat from £499 per month and the Tiguan from £639 per month.
The price is on a just add fuel basis and includes the cost of the car, as well as comprehensive insurance, VED, servicing, maintenance and breakdown cover, with no deposit to be paid, and the option to upgrade or downgrade to suit the customer's needs. This allows customers the flexibility to sign up for anything between a one-month rolling contract through to a 12-month term, with discounts available for longer contract periods. The process is fully online, with users of the system able to secure their car in as little as 48 hours.
Claire McGreal, Brand Strategy & Mobility Services Manager at Volkswagen UK, said: "Given the changes we face in the automotive landscape, and as drivers' needs change, we need to adapt and diversify from traditional concepts like outright ownership, into more flexible and user-friendly options like subscriptions.
"Our pilot partnership with Drover is Volkswagen UK's first exploratory step into subscription services, but represents the first shoots of something much bigger – an evolving brand. Subscription services in general offer the convenience, freedom and ease of use that people have come to expect from Volkswagen."
Felix Leuschner, Founder and CEO of Drover, said: "We are excited to start working with Volkswagen and Volkswagen Financial Services, and feel proud to be able to make this announcement. Together, we're helping to drive a shift within the industry toward exploring new business models to meet the needs of the next-generation driver.
"The partnership brings together some of the most popular cars in the world, with our innovative business model and we can't wait to see how this can impact ownership as we know it."
The full Volkswagen Drover subscription fleet can be accessed by visiting joindrover.com/volkswagen.